(last update: April 2023)
If you're coming to Paphos one of the first things you would want to know is where to get the best food. At least I always do that!
During my 6.5 years on the island, I've tested and sampled most of the places in and around Paphos and the following made it to my hall of fame.
Please feel free to leave a comment below with your recommendations and I will be very excited to check them out!
My Local Picks – 7+ Best Paphos Restaurants
Below are my top restaurants I consider the best in Paphos and I kept returning to these on every possible occasion.
1. Ouzeri Restaurant at Almyra Hotel, Paphos
The restaurant is located at the seaside, at the edge of the hotel, offering stunning views and plenty of opportunities for people-watching.
The menu is short and simple, focusing on the highlights of the local cuisine.
I have tried the Lobster Pasta which was absolutely delicious, and also the orzo pasta with seafood, and my husband had the chicken gyros with tzatziki.
Complimented by the local wine from our favourite winery – Kolios. The menu also offers a variety of local mezze, fresh salads, seafood, and plenty more.
The restaurant has limited seating, so booking in high season is recommended, we managed to get in just before the restaurant got really busy.
Even in November, places like this one tend to fill up quite fast, possibly helped and lured in by the live music.
Location: Poseidonos Ave 12, Paphos, Cyprus
Contact: tel. +35726888700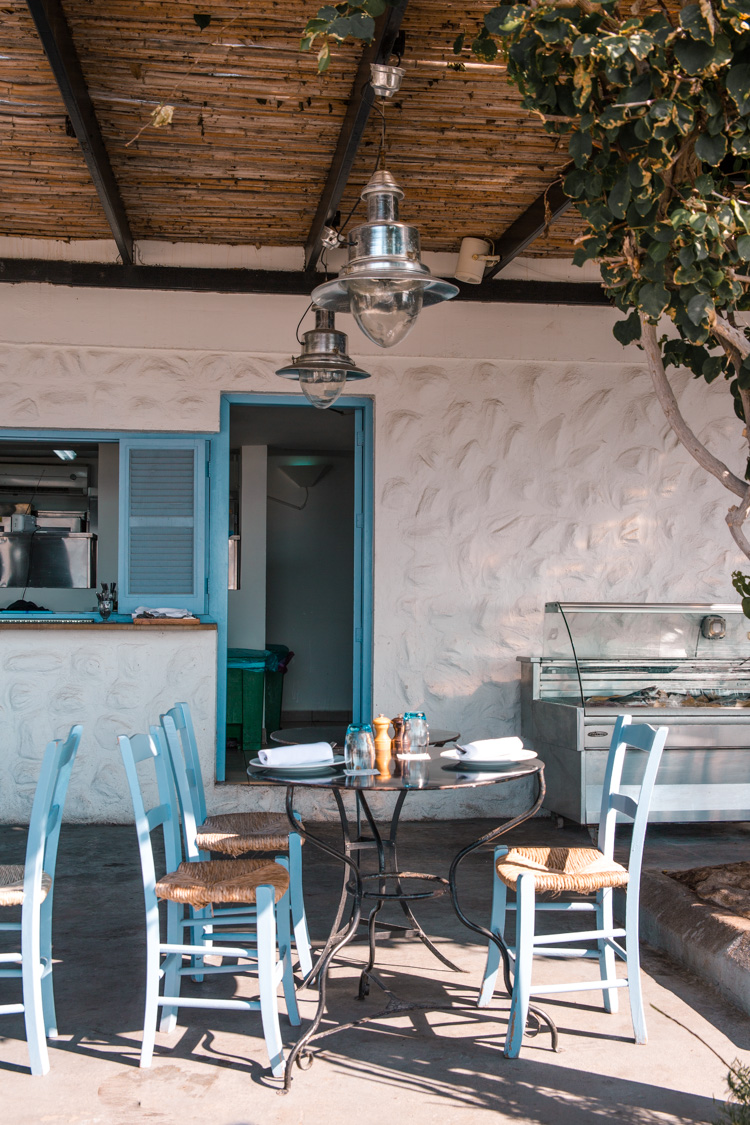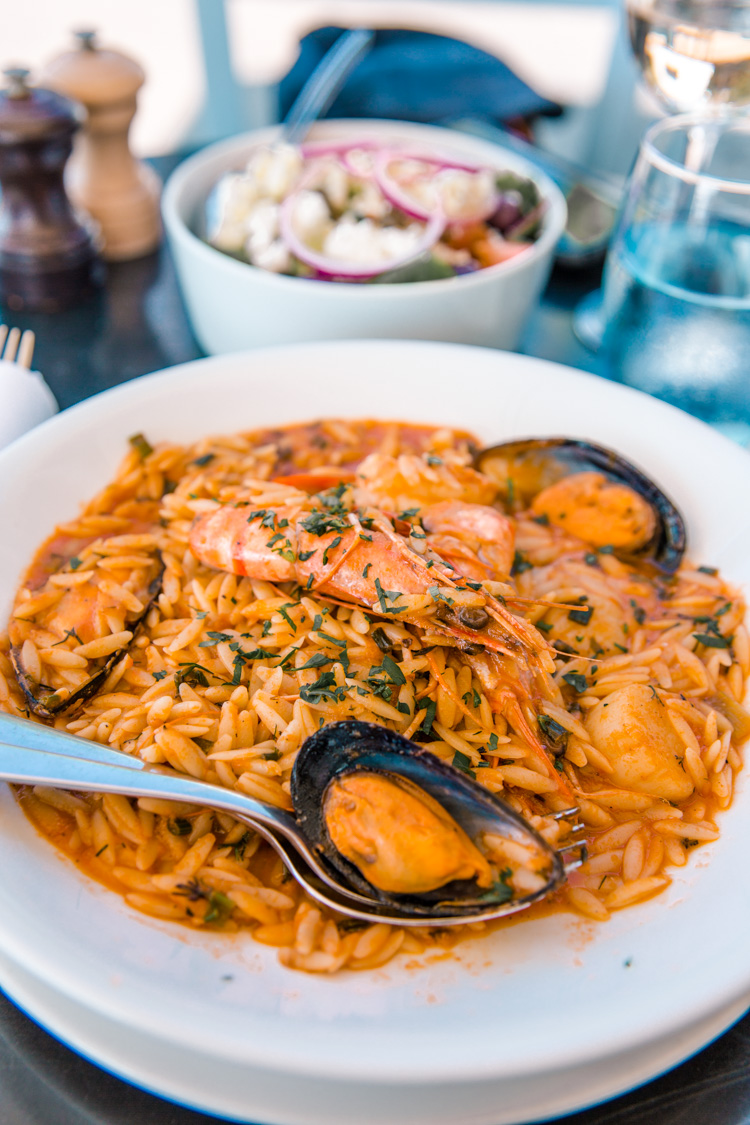 2. Namaste Indian Restaurant
If you're coming for holiday in Cyprus, you're probably thinking the last thing you want to eat is Indian food. But please hear me out!
After you tasted mezze in three local taverns, I can guarantee you will crave a bit of variety and more importantly – proper flavours.
And that's exactly what you'll find in Namaste Indian Restaurant. Located near the bar street in Paphos and introduced to me by my vegan friend Liv, this place was a very pleasant surprise in the most unexpected ways.
If you don't get impressed by the interior decor and relaxed atmosphere, I'm sure you will get excited about the menu variety.
The menu is vegetarian and vegan-friendly and offers plenty of variety even for the most difficult to please.
The traditional Indian staples are complemented by a small selection of Chinese-inspired dishes. The prices are very reasonable and the portions more than generous.
My absolute favourite was the starter – Sharing Chaat Platter – no idea what was there but it was so delicious!!
Location: Kleious 6, Paphos 8042, Cyprus
Contact: tel. +35796067591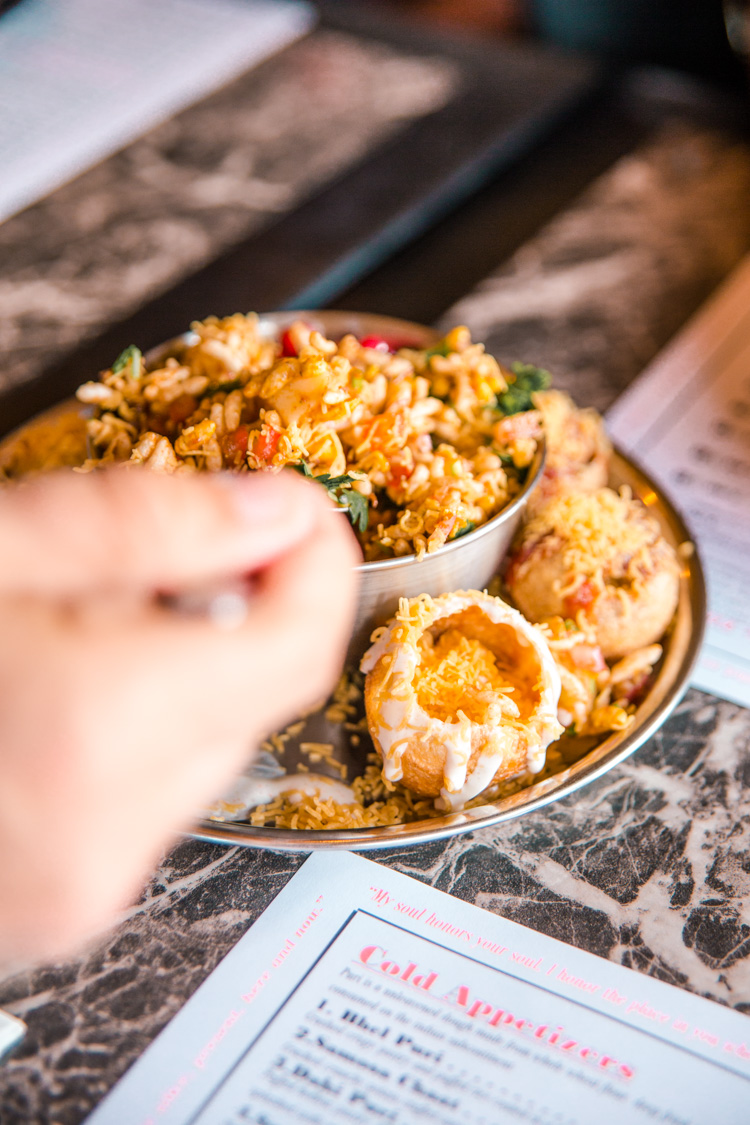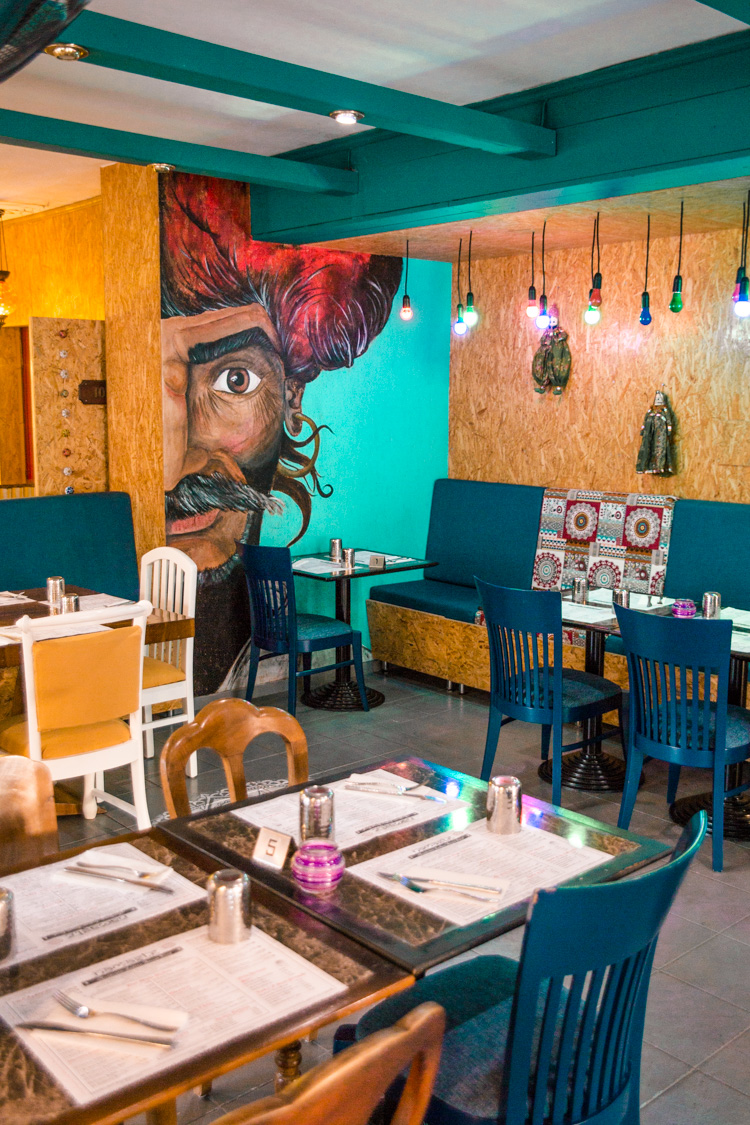 3. Muse Restaurant
Muse was recommended by my Greek teacher as one of the places where locals hand out and they have awesome food.
He was 100% right. Muse is set in central Paphos, on top of a hill with panoramic views of the city and harbour.
The generous space is dominated by a large outdoor seating area and a cosy indoor part of the restaurant.
It gets really busy in summer so even in the middle of the week you should book a table, especially if you want to catch the view of the sunset from there.
The menu has everything you could think of – gorgeous burgers, fresh salads, delicious seafood and plenty of cocktails to flash it down with.
One of my old-time favourites is the grilled salmon with saffron risotto and clams.
Contact & Location: Mousallas (close to the town hall in Paphos), tel. 26 941951. Opening hours: 9.00 am to 02.00 am. Contact via Facebook page – here.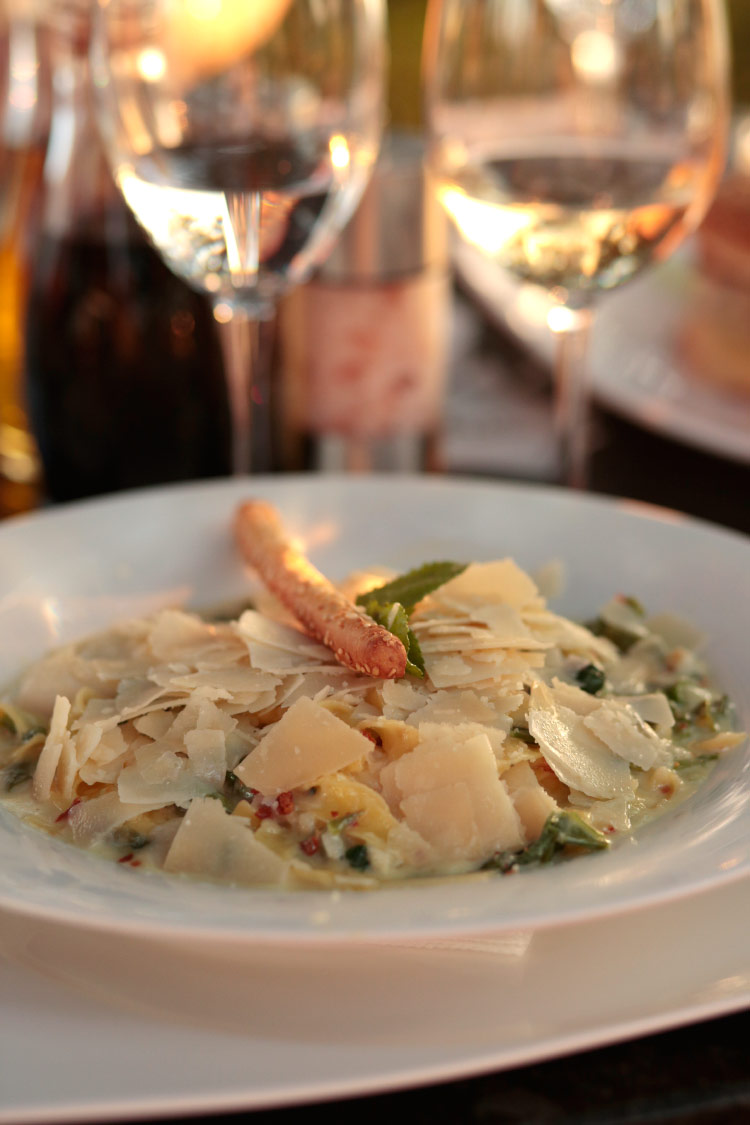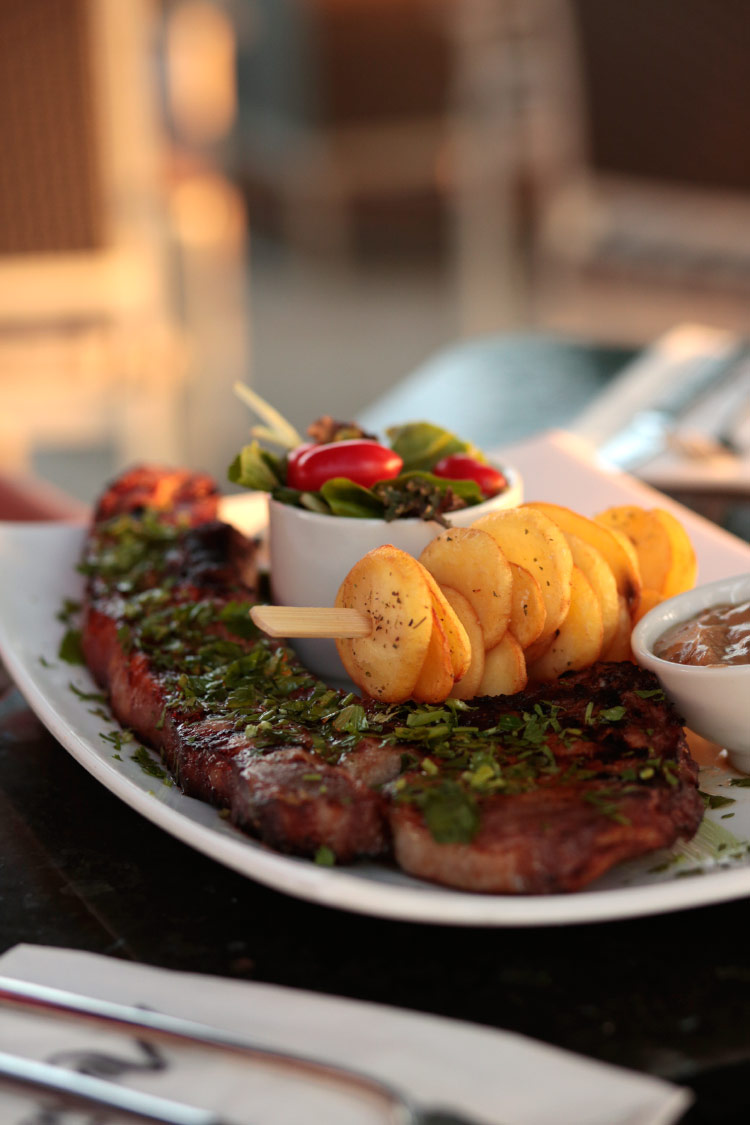 4. Oniro by the Sea
Oniro by the Sea has always been a huge hit among locals and tourists alike.
Located just at the outskirts of lower Peyia, right next to the famous Edro III shipwreck, what used to be just a few chairs and tables where you can grab a sandwich and coffee, now become the official hot spot for each summer.
The restaurant is in the middle of nowhere, so the only thing you hear is the waves crashing to the rocks below. The premises were beautifully decorated and no detail was left behind.
But the looks are only half of the story. The food is even more exciting! The menu is very modern with a few surprises here and there.
There are no boring staple dishes that you find in every single restaurant – instead, everything got a little modern twist. Prepared from fresh ingredients, and presented in a beautiful way – the food is simply superb!
It gets really busy in the summer, so if you want to get a good spot try getting there earlier. There are plenty of seats available and it can get rather noisy.
Despite being very busy every time we went, we never had to wait too long for service or food. One of my top places for summer!
Contact & Location: Glykou Nerou St (location on a map here). Contact – 99 372255 (they do not take bookings). Oniro is closed off seasons due to weather conditions (November – March)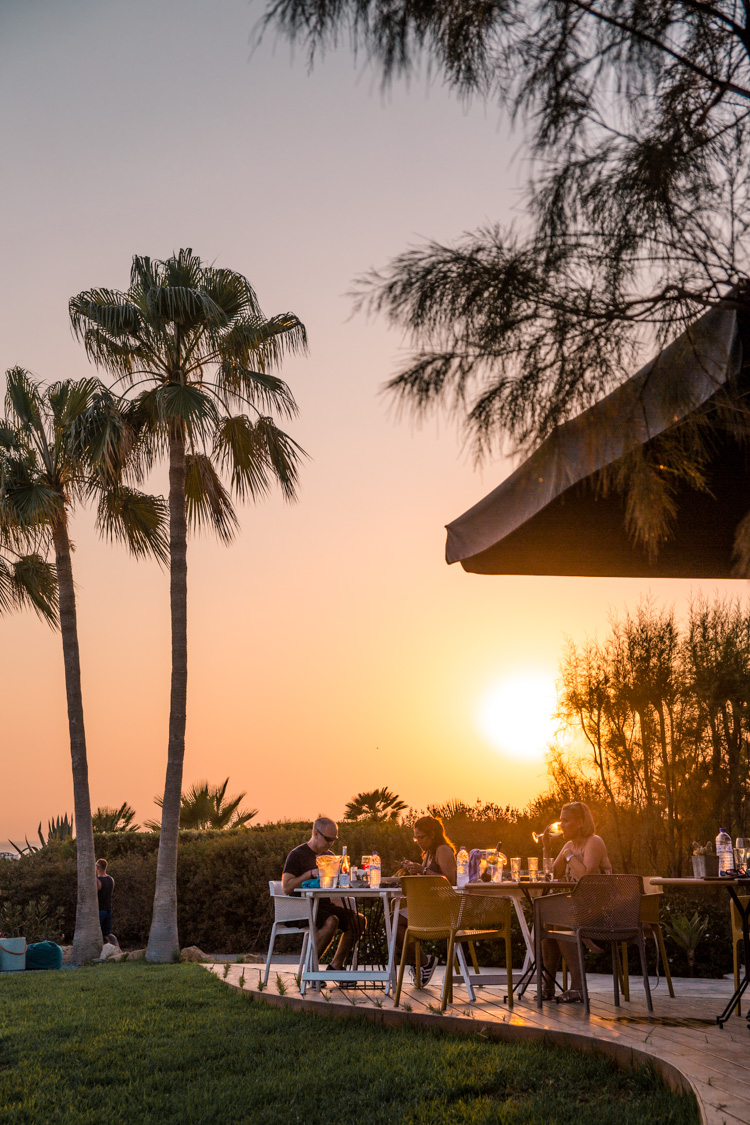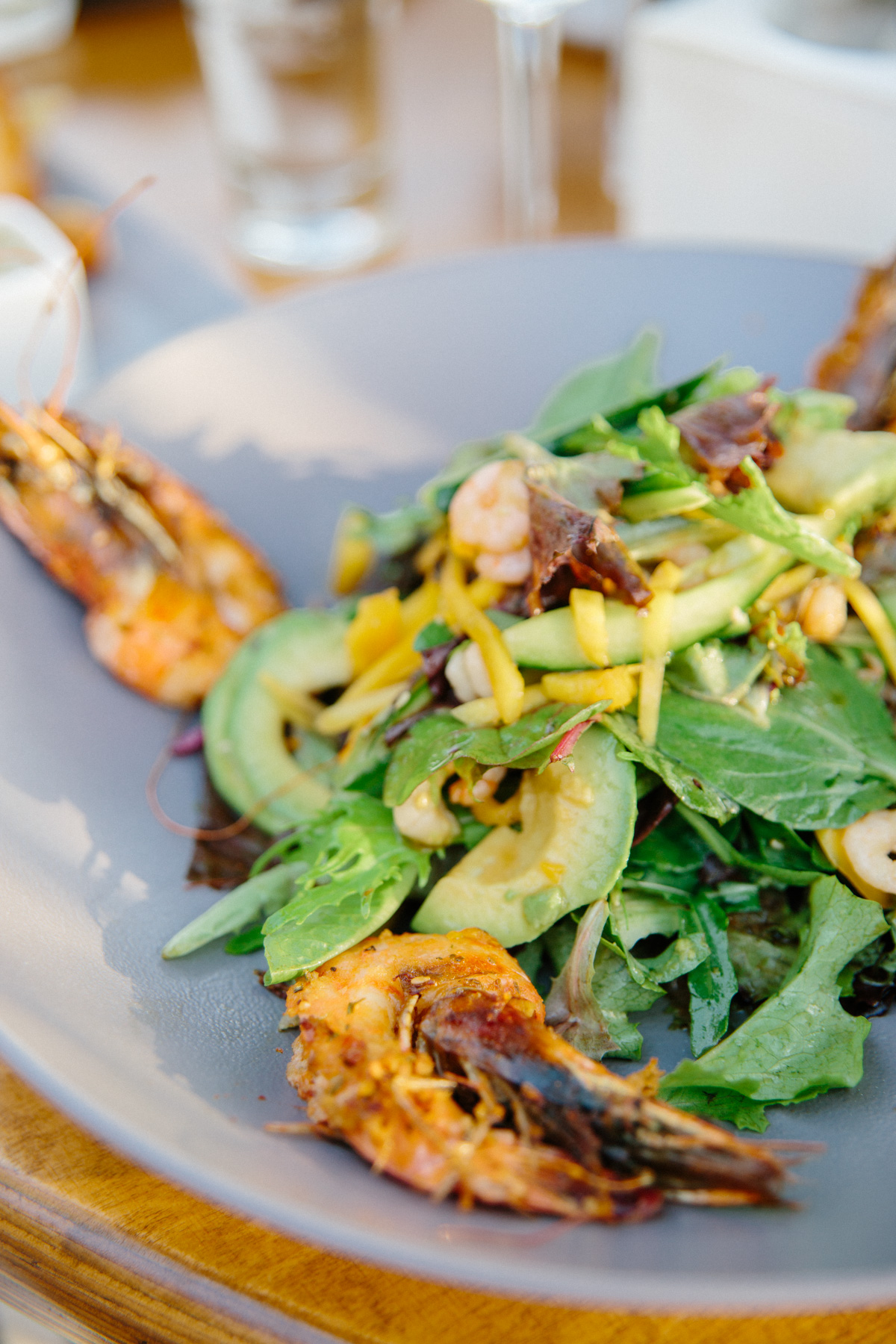 5. Koutourou Ouzeri
Koutourou is a very unique restaurant with rustic vintage charm inside and tells a very modern story through the dishes.
It offers you to sample the best of Cypriot cuisine, without having to go through the torture of the usual mezze meal. If you have one of those, you know what I'm talking about.
The interior adds a whole new element to this place. Filled with memorabilia, antiques and – maybe I add – perfect for those precious Instagram moments (if you're the type). I was really surprised to find such a chic and beautifully decorated place in central Paphos.
The spacious interior with plenty of seating options has a dedicated display in each of the rooms. My personal favourite – old typewriters which took up a whole wall and retro style fridge complete with classic Coca-Cola bottles.
So what was on our menu?
Village salad, Japanese Salad, Fava, Dakos, Oven Baked Olives, Spicy Cheese Dips, Taramosalata, Roasted Potatoes, Roasted Mushrooms, Aubergine with Garlic & Lemon, Baked carrots with yogurt and coriander, Oven Baked Halloumi with Honey, Oven Baked Oil Cheese, Prawns in Beer (our choice), Lamb's Sausage with Spicy Cheese & Tomatoes, Roasted Chicken Livers, Traditional Pork Patties, Crispy Pork Belly, Marinated Grilled Chicken.
The food was very fresh and skillfully prepared without making it too complicated. Simple flavours done well.
Location: Filippou Antoniaidi, Paphos, Cyprus
Contact: +35726952953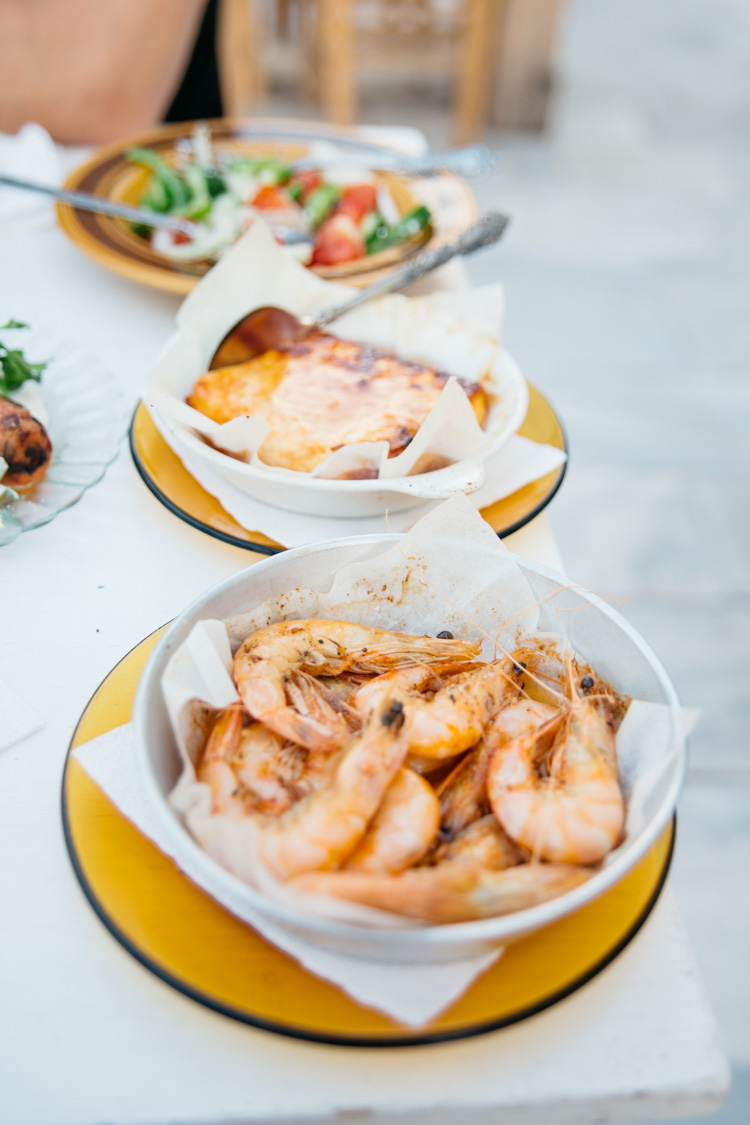 6. Wagamama (Kings Avenue Mall)
Wagamama is not your usual restaurant in many senses.
The setup is completely different and it's not the type of place where you would take your other half for a romantic candle-lit dinner. The atmosphere can be a bit of a letdown if you're expecting something spectacular, but I have to say that the food more than makes up for it.
My absolute favourites from the menu, tested and tried over the years are:
104 – edamame with chili garlic salt (finger-licking good and damn healthy!)
23 – coconut seafood broth – very soft flavours, hints of sweetness and gorgeous seafood (a bit messy to eat)
79 – raisukaree with prawns – fresh and citrussy, with crisp white rice served in the middle, my go-to meal if I don't want to experiment with any new dishes
72 – katsu curry with aubergine and sweet potato – very basic curry with super delicious sauce. Reminds me almost on Wiener Schnitzel with the presentation. I like this a lot but prefer the raisukaree because there are a lot more flavours, elements and it doesn't feel as dry as this one
50 – firecracker with prawns – very spicy, almost as good as my favorite raisukaree – very similar too
Despite introducing a lot of Asian flavors, the food is still super healthy, beautifully presented and reasonably priced.
If I could pick to go for lunch anywhere, wagamama always makes the list. If you're a wagamama-virgin, this one should go on top of your list!
Location: Corner St. Paul &, Tombs of the Kings Ave 2, Paphos 8046, Cyprus
Contact: +35726600885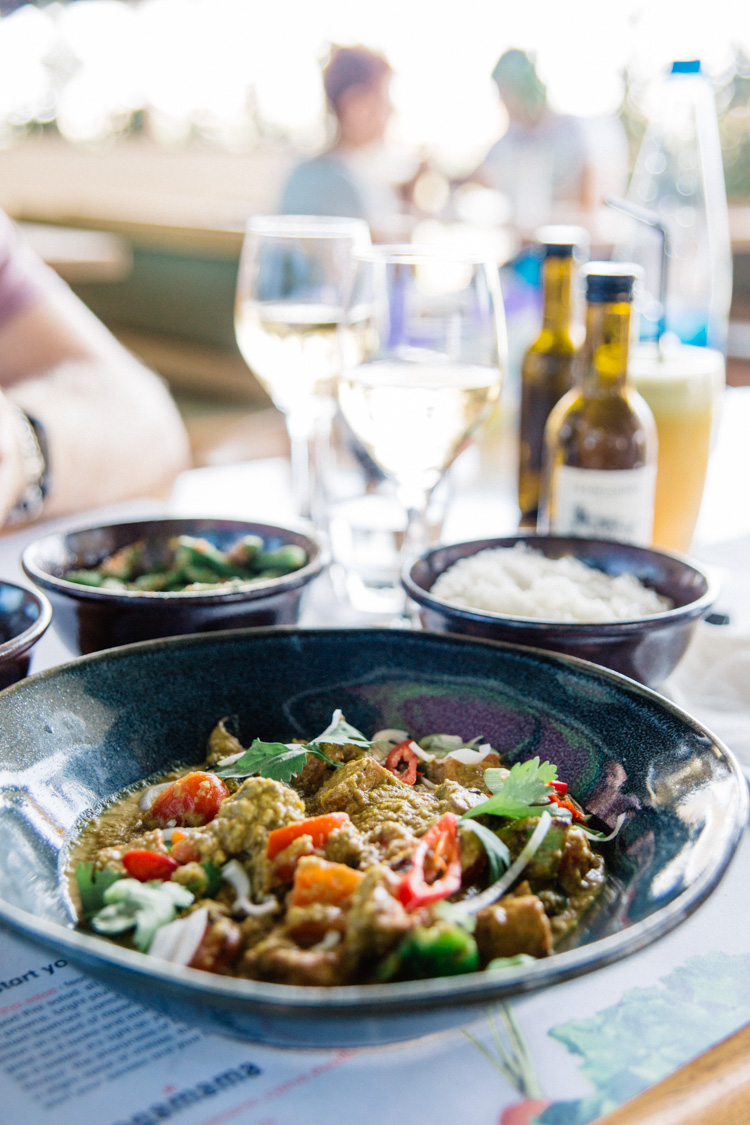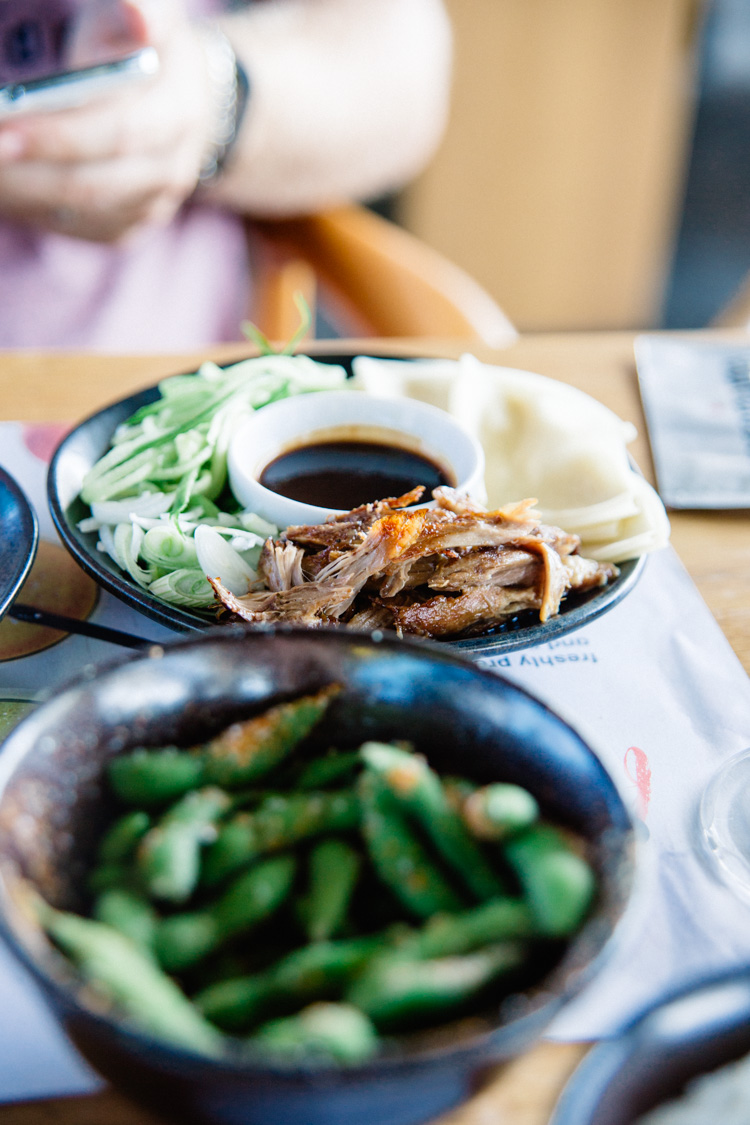 7. Meraki Cafe
Created with mindful living in mind, their menu is packed with plant goodness, nutritious and super healthy.
You can choose from Buddha bowls, sandwiches, wraps, burgers or even morning staples like pancakes and smoothie bowls.
The drinks menu offers plenty to choose from, whether you want something delicious and healthy like fresh juice or smoothie, or simply a glass of wine with your lunch.
They even have vegan cakes and plenty of plant milk coffee varieties like Beetroot Latte (my favourite), Turmeric Latte and plenty more.
On my numerous visits, I get to sample most of the menu and it certainly did not disappoint. Packed with flavours, plant goodness and served always picture perfect!
In the cafe you will also find a small market with eco-friendly products like bamboo toothbrushes, eco-friendly cleaning products, reusable cups and much more.
Location: St George's Shopping Mall Griva Digeni 57, Shop 10 Chlorakas, 8220, Cyprus
Contact: +35726221527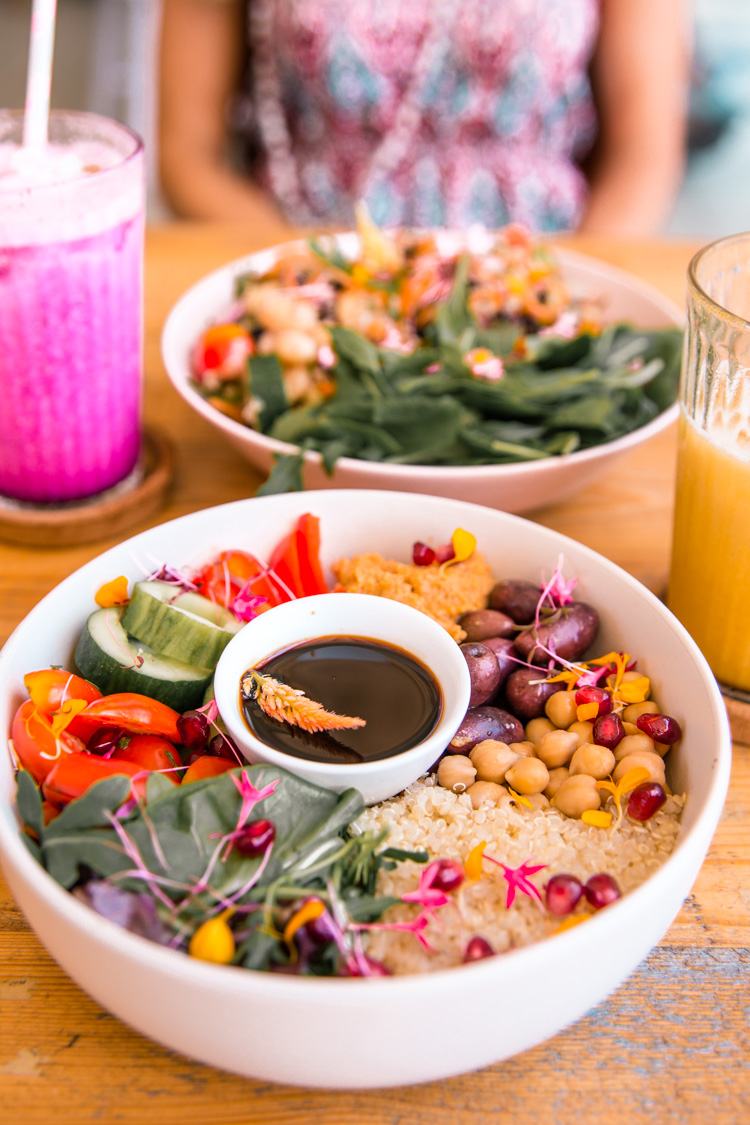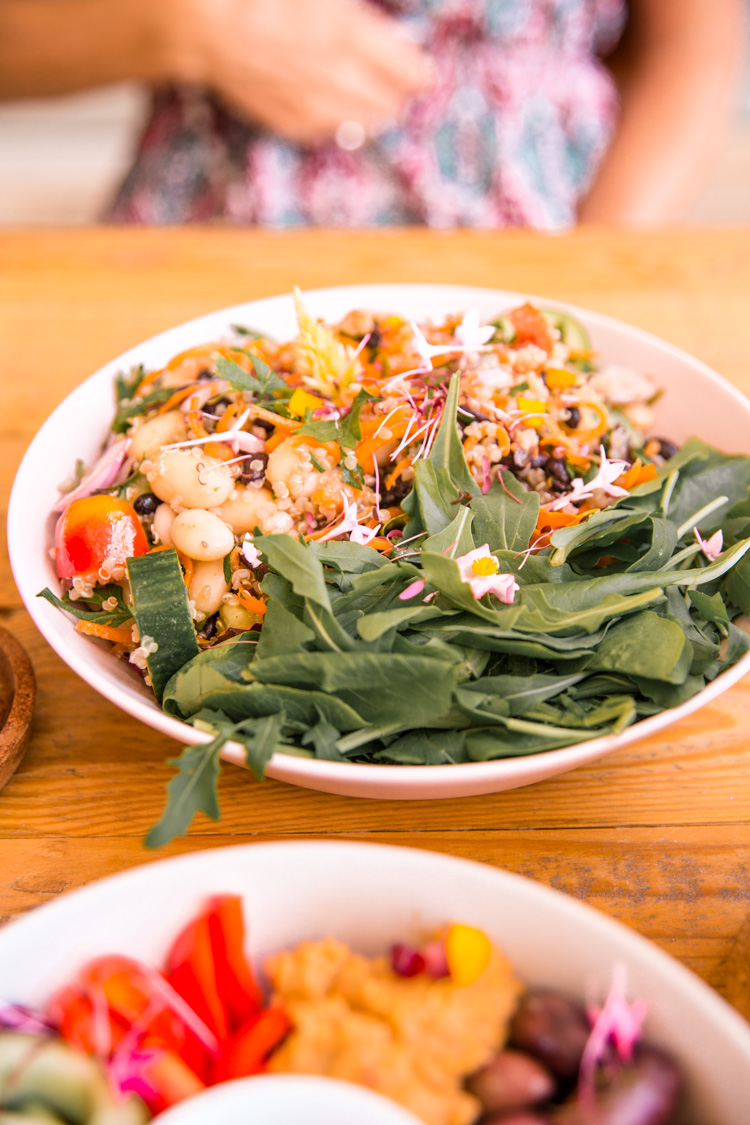 8. Suite 48
Suite 48 is located not far away from Paphos Harbour, right next to Amphora Resort.
Unlike some of the previous restaurants, Suite 48 boats a gorgeous generous outdoor space complete with day beds, tables from wine barrels, an outdoor bar, a playground for kids and best of all – stunning views of the sea and sunset.
Oh and I forgot to mention one luxury that you won't find in many places – fresh green grass!!!
In summer, you can catch some live music here and join others dancing under the stars. The tables are spaced out nicely so you don't feel crowded or like having to listen to other people's conversations.
The menu is short and sweet, offering plenty of healthy bites and naughty treats alike. The food tastes very fresh and comes in generous portions.
They have a large selection of sandwiches, salads, grilled dishes and of course cocktails and smoothies too.
Suite 48 is best for meeting family and friends and unlikely most other places, they are open even in off-season ( November – March).
Location & Contact: Suite 48 Grill & Lounge Bar, opening hours 9.00 am to 2.00 am, menu here. For reservations call +357 2691 0808.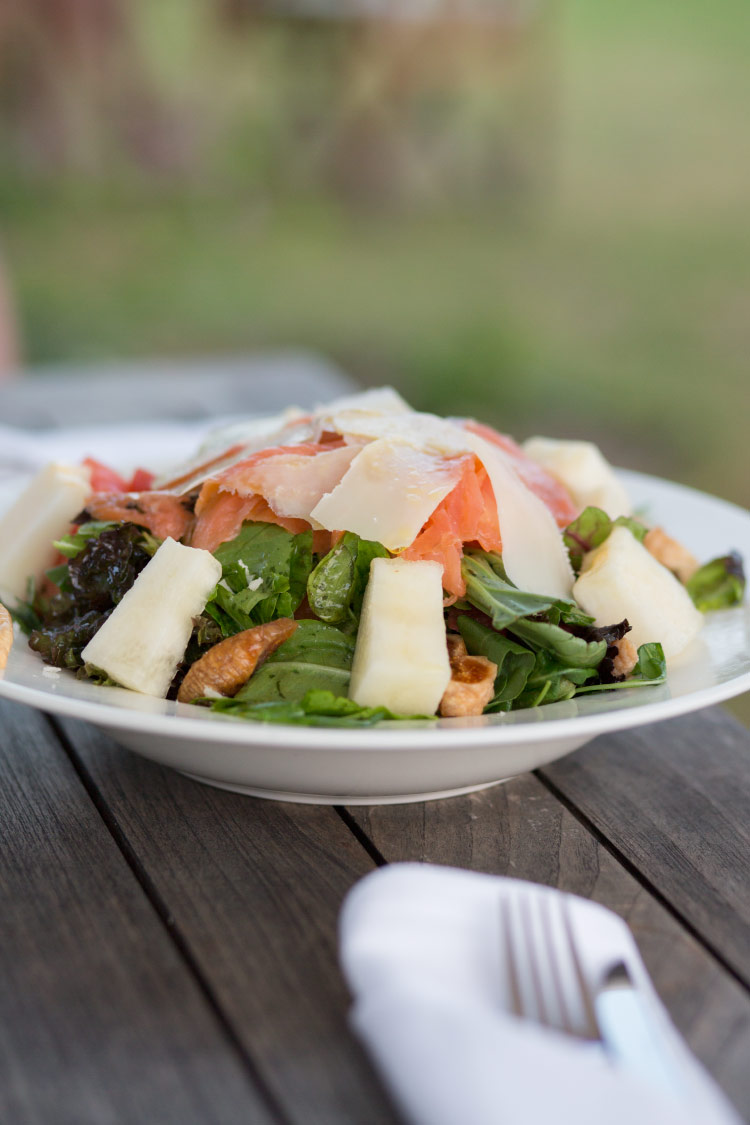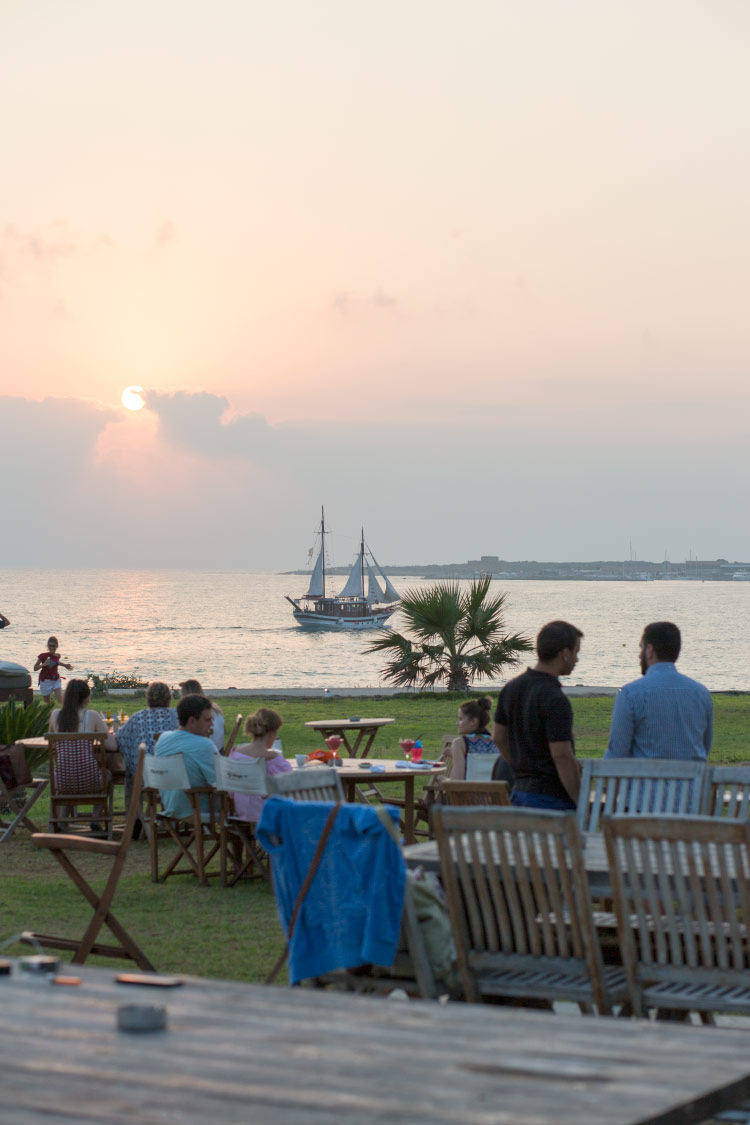 A Word of Warning
I can't leave this post without saying – PLEASE please do not trust TripAdvisor reviews of local restaurants in Paphos (or most other places for that matter).
Restaurant reviews are written by tourists who stay on the island for a couple of days and in the majority of cases just go to the nearest place where you can get a burger or overpriced 'local fish'.
For most cities, the top-ranking Tripadvisor restaurants are just an absolute disappointment.
The reviews can be very easily manipulated and I had to learn that the hard way myself, after being disappointed so many times with the recommendations on their site.
In most places popular with tourists, such as the harbour area, the restaurant owners simply don't have any incentives to improve the quality.
If someone on holiday doesn't like the experience, the next day there will be plenty more coming tourists ready to give it a try.
That's one of the reasons why it's essential to find places where local people eat and you know the quality is better.
Seafood Quality
One of the biggest surprises you will probably find is seafood.
Most of the seafood you will find on the menu is mainly frozen ( in 90% of the cases) or farm-raised. What does it mean? That you are not getting the authentic Mediterranean flavours you think you are paying for.
Sad, but true. It was one of the first not-pleasant surprises after coming to the island. Even the fish in "fish market" section of the supermarket is rarely freshly caught in the sea.
On the other hand, any vegetables and fruits and superb and will taste like anywhere else!
Paphos: Recommended Tours & Experiences
Explore More: Food Guides
Best Restaurants in Limassol: A Guide by a Local Expat
Cyprus Bucket List 2023: The Beach Bars and Restaurants in Cyprus
Explore More: Sights
What to Do and See in Limassol, Cyprus
15+ Fabulous Things to Do & See in Paphos
Cyprus Wineries & Wine Tasting Experiences
Hiking in the Avakas Gorge, Paphos (Cyprus)
Baths of Adonis in Paphos, Cyprus
A Day Trip to Paphos ZOO, Cyprus
The Hidden Gem in Paphos: Agios Georgios
Explore More: Travel Guides
Cyprus Bucket List – Best Beaches to Soak up Sun in Cyprus
Local's Guide to Coral Bay (Peyia) for 2023
Driving in Cyprus: The Complete Guide by a Local Expat
Best Instagram Locations in Cyprus
Cyprus Bucket List: Things to Do in Cyprus with Kids
The Best Time to Visit Cyprus – Month by Month Guide
A Guide by a Local: How to Spend a Day in Kato Paphos, Cyprus
Cyprus Travel Planning Guide
cheap flights to CYPRUS
KIWI.COM – find the best deals on flights to Cyprus from all available airlines, all in one place! You can also set up price alerts, so you will be the first to know when the price for your dates drops.
BEST HOTELS IN CYPRUS
BOOKING.COM – I have used booking.com for years for stays in Cyprus and abroad. They have very reliable guest reviews and a super easy booking process. Check out some of my favourite hotel stays here.
CAR RENTAL IN CYPRUS
DISCOVER CARS – this award-winning price comparison website will source car rental quotes from local and international companies, giving you the best price for your car rental in Cyprus. Don't forget to check my guide about driving in Cyprus to stay safe on the roads!
TOURS & EXPERIENCES
GET YOUR GUIDE – find local day trips, food tours, tickets to monuments and much more on this popular travel platform offering unique travel experiences in Cyprus.
QUAD BIKE, BIKE & SCOOTER RENTALS
BIKES BOOKING – book bikes, motorcycles, scooters or quad bikes all from one place!
Disclaimer: This post contains affiliate links – if you decide to book using one of the links, I will earn a small commission that helps me run this site. This is at no extra cost to you.