I've lived in and near Coral Bay (Peyia – Paphos district) for over six years and even though that doesn't make me an expert, I have probably tested and tried everything it has to offer.
If you come to Coral Bay, you will either love it or hate it.
As it's a holiday destination and very much a tourist area, it gets completely deserted in the winter months and in summer the streets are packed with tourists and live music each night of the week.
The area is known for the high street – Coral Bay Avenue – which stretches all the way to the blue flag Coral Bay Beach.
The avenue is lined with restaurants, bars, shops and car rental offices.
Much of the action and life is focused on these two areas – the beach and the high street.
If you want to experience something a little more authentic, you will have to venture out further towards Akamas Peninsula or one of the villages in the Paphos area (more on that below).
Here is the – not so short – guide with my tips and observations. If there is anything, in particular, you would like to know, just pop a question in the comments.
What To Do in Coral Bay: Best Tips from a Local
I am guessing if you're staying in Coral Bay, it's because of the proximity to the beaches and the choices of restaurants it offers.
Coral Bay Beaches
The two biggest beaches are accessible by walking from most of the hotels in the area.
The beaches get quite crowded in the summer months and you have to pay for the use of an umbrella and sunchair, which comes to 5 eur for both together. Each beach is well equipped with restaurants where you can get light snacks and warm food and plenty of drinks.
For sunset watching, you will not see the sunset completely from either of these beaches, in the summer months. I put some details of the best sunset viewpoints at the bottom of the article.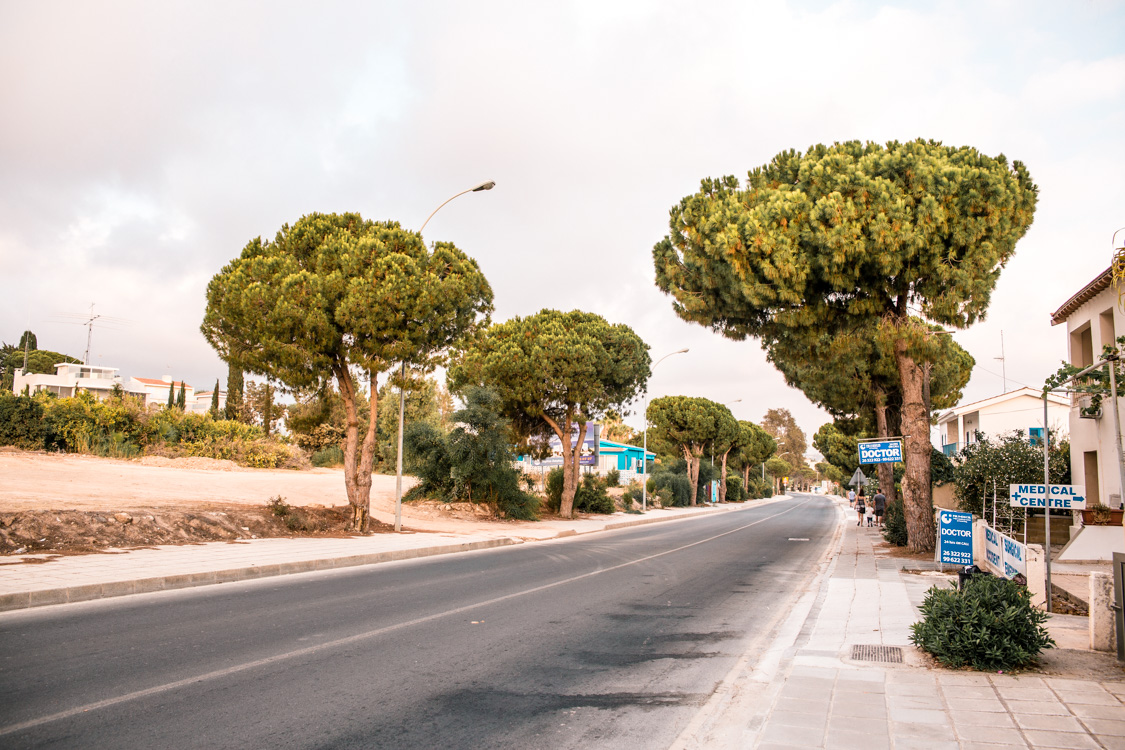 Coral Bay Restaurants
The restaurants of the main street don't offer too much variety and fall into three groups – local cuisine, international and Chinese. More on those later.
If you want to venture for a dining experience outside coral bay, you can check some of the recommended restaurants here.
Coral Bay is known for its nightlife and live music which can be heard here pretty much every night of the week.
In some of the restaurants, there are local musicians performing greek songs. Another place for live music is Kikkos, where you sometimes see also exotic dancers.
They have a large garden space with plenty of seating options, but I personally found the music too loud. The main action seems to concentrate in Cleos Cocktail Bar, where they also have a small dancing space and DJ at weekends.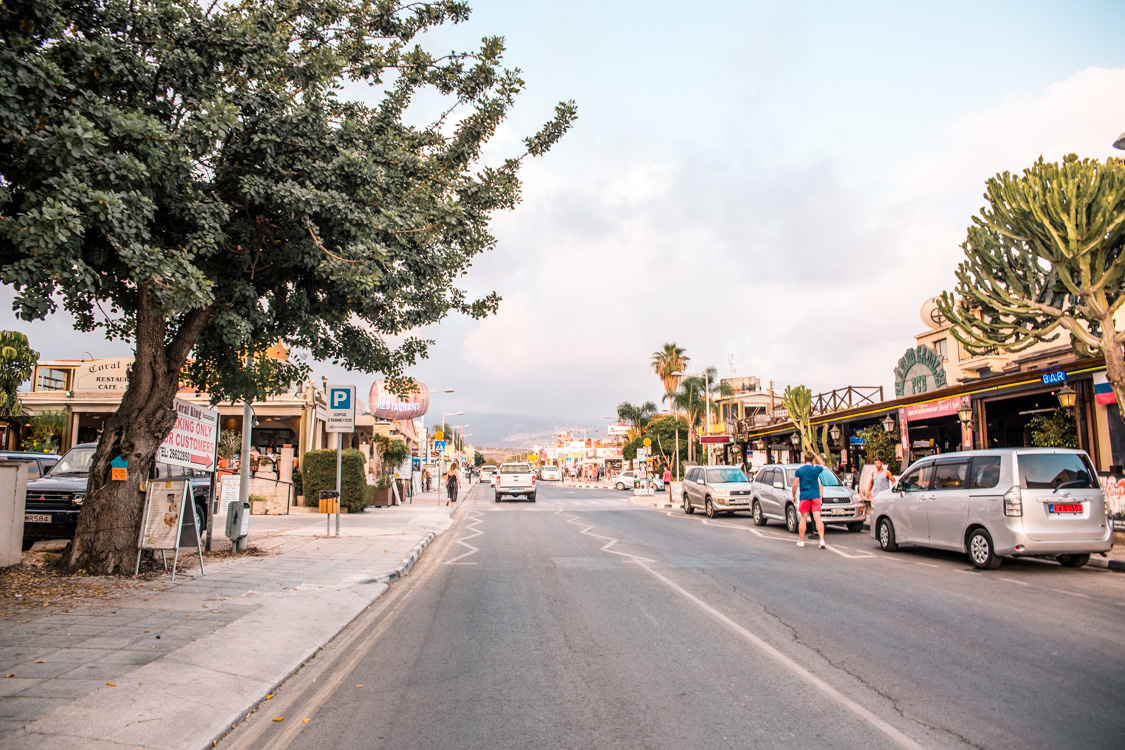 Coral Bay Activities & Attractions
If you're up for an adventure, you can book a Quadbike Rides in Akamas.
Either on your own or with a guide. Quadbikes can be rented any day of the week and you need pay a security deposit.
A few tips for a trip from my old articles are here, here and here.
Each beach offers a variety of water sports (most options available at Coral Bay Beach).
Paphos ZOO is about 10 mins drive from Coral Bay and is open all year round. There is a small restaurant and a playground for kids.
See Paphos town and explore the old town, harbour area or one of the historic sites (Archeological Park or Tombs of the Kings).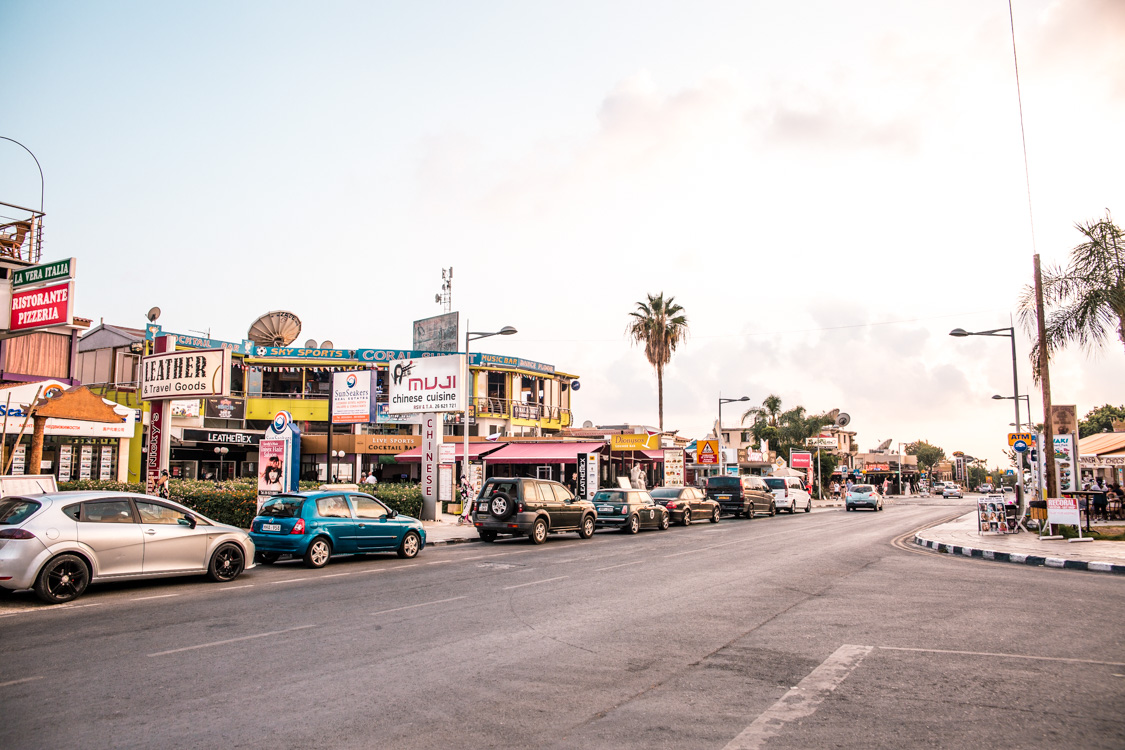 CORAL BAY, CYPRUS: 2023 TRAVEL GUIDE
Shops in Coral Bay
There are a few kiosks on the main road where you will get anything from sunscreen, beach toys, and magazines to butter and milk. They also sell cigarettes, alcohol and anything else you fancy.
For food shopping, the closest supermarket is Phillipos Supermarket.
Word of warning – I've had a number of issues where they were trying to overcharge for things like the fresh meat or fish, relying on that you don't check the receipt and question the price per kilo.
The lady serving at the fish counter is particularly unfriendly and at one point we nearly got into a fight just to get fish cut the way we wanted to. The supermarket serves fresh produce from Cyprus and has a bakery selling not just fresh pastry but also cakes.
If you walk all the way to the back of the supermarket you will find small homeware and DIY section with gardening equipment, kitchen equipment and they also have a small selection of toys and beach necessities.
In case you want some souvenirs to take home with you, they have a wide selection of these too, ranging from magnets, postcards and other small items.
There is a range of Russian and English food items (Tesco range). The supermarket offers free food delivery in the area.
On Coral Bay Avenue, you will also find Pandora shop, a shop selling suitcases and leather accessories and a jewelry shop. There is a pharmacy at the beginning of the road marked with a clear green sign (a walk-in clinic is also available here, opposite the pharmacy – Coral Bay Clinic).
If you want to rent a car, quad bike, scooter or bike, you can get these from Golden Ride Rentals located almost opposite the Blazing Saddles bar.
In the same place, you can also get information about various day trips and excursions around the island.
Things to do with Kids in Coral Bay
Itaki Park is one of the main points of interest for kids in the area. It is a decent size park which offers the usual entertainment and they also host kids parties. Recently they have added 4 or 5 huge trampolines for kids.
At Crown Resorts Horizon there is a large playground within beautiful maintained green gardens which is accessible all year round from the main road.
Another alternative is Renegades Bar – even though it's a bar, it has a huge backyard garden with a trampoline and a small playground for kids.
For older kids, there is a go-carting course short drive after Phillipos supermarket, marked on map here.
At both of the beaches, you will find plenty of water sports to enjoy with your kids.
Paphos ZOO is about 10 mins drive from Coral Bay area, located here.
Beaches in Peyia Area (Coral Bay)
Coral Bay has several blue flag beaches. The most known ones are Coral Bay Beach (more crowded in the summer months) and Coralia Beach.
C

oral Bay Beach

Coral Bay beach can be accessed from several points, the easiest one is by the main parking lot. The beach is very long and stretches all the way to Sentido Hotel.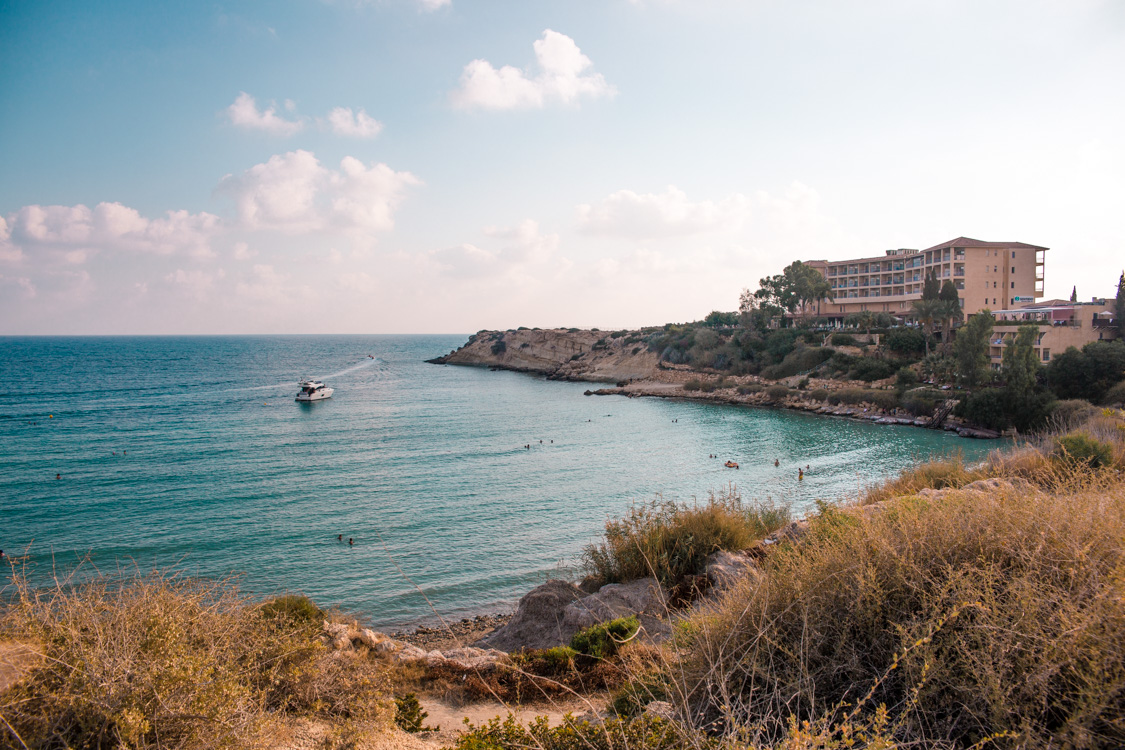 The whole strip of the beach is lined with sunchairs and umbrellas (which you have to pay for). The bus stop is right next to the entrance to the beach.
In the summer months, the beach is crowded and very busy. There are two operational restaurants and refreshments places, one at each end of the beach. In the middle of the beach, you will find the watersport facilities.
The water is pretty shallow and usually, the waves are not big.
In winter, all of the sunchairs and umbrellas are gone and you can stroll freely on the sand. Both of the restaurants are also closed.
To get to the beach you can simply walk to the end of Coral Bay Avenue and continue further down the road until you see the massive black and orange sign for the beach.
The beach is less than 10 mins walk from the start of Coral Bay Avenue.
Location of Coral Bay Beach:
Coralia Beach
Coralia Beach (on maps marked as Laourou beach) is located further away from the main street and it is the first stop of the bus that goes all the way to the harbour.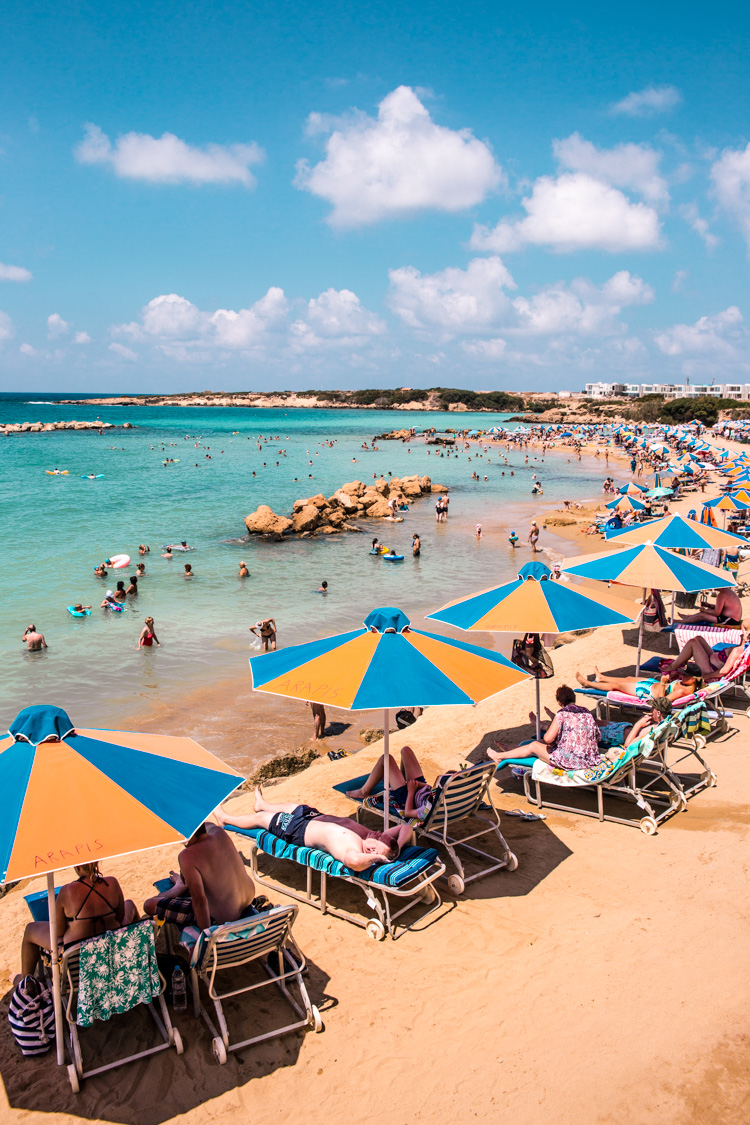 It is also very busy in the summer months, but it does not feel as crowded as Coral Bay Beach as it's smaller. As with the other beach, there are two restaurants at each end of the beach, one belonging to a holiday resort.
The water here is very shallow and suitable for families with kids. One of the restaurants on the left side has a small indoor play area for kids.
This is the beach that's closest to my current home so we spend a lot of time here, coming for fresh orange juice in the morning and for a dip in the evening when most tourists have left to have dinner in the hotel.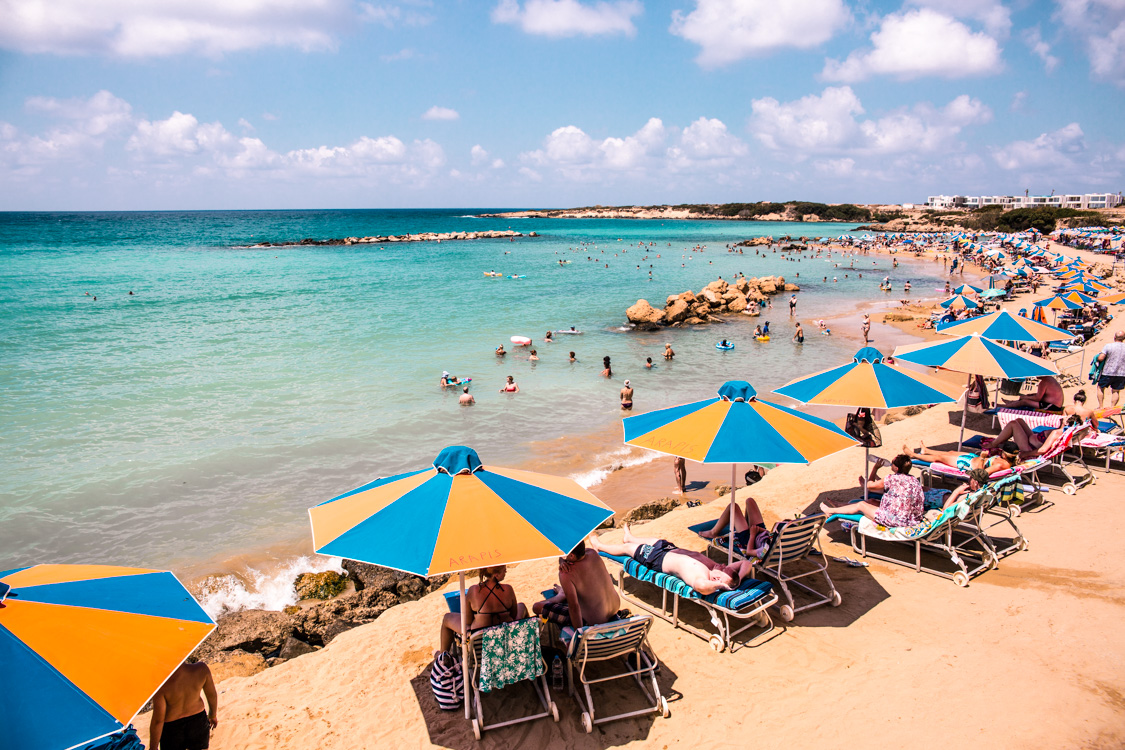 Location of Coralia Beach:
Best Coral Bay Restaurants [2024]
Ah my favourite topic, restaurants in Cyprus!
Food is a very personal topic so I will try to stay as objective as I can! Below I have added an exhaustive list of dining options in Coral Bay with my personal experience notes – the ones in bold are worth a visit.
As with any other holiday resort, the food in here is very much catering for tourists, so you will see a lot of hamburgers, fish and chips and similar on the menu.
There are a lot of places which I have left out for that reason.
So here is my roundup!
Renegades Sports Bar – this was my favourite place for drinks and to hang out with our little one.
They have a massive garden in the back with large play area and the staff is lovely. We had food a few times and it was ok, but it's not the sort of place where you would go for dinner.
Sidayes French Restaurant – located further down the road opposite Renegades Bar. Lovely interior in a family-run restaurant. Beautiful romantic atmosphere. Unfortunately, the food didn't live up to the expectations and I found the prices quite high for this part of Paphos.
Zenta's Bar – a traditional British-style pub offering some of the pub classics. We've had food a few times and it was ok.
Santa Marina Fish & Chips – due to the nearby located Ocean Basket, I never made it here.
Millenium Show Bar (now renamed to Dirty Martini) – great for live music and cocktails.
Kikos Bar – restaurant with large terrace and live music performances. Only come for drinks here.
Corallo Restaurant – had a few lovely meals here, probably one of the best options for local food, but don't expect anything spectacular.
Lecanto Restaurant – ate here a few times in winter, nice atmosphere and good food.
Muji Chinese – tried lately and was disappointed. Average food with very slow service. Great views from the upstairs terrace.
Coral Sunset – been here a few times for drinks. Nice views but the loud live sports on tv are a distraction. I think they have a dancefloor there too.
Seriani Restaurant – had a meal here, was really nice. Nice staff and surroundings.
La Vera Italia – lovely Italian restaurant, great pizza and pasta and lovely staff.
Ocean Basket (off the main road) – our first choice for seafood. Restaurant chain but the food is always delicious and reasonably priced.
La Vignia Restaurant– probably my favorite place on the street. Nice variety of food, always fresh and delicious. Beautiful romantic atmosphere and attentive staff. Pictures from this restaurant are below. One of my regular places.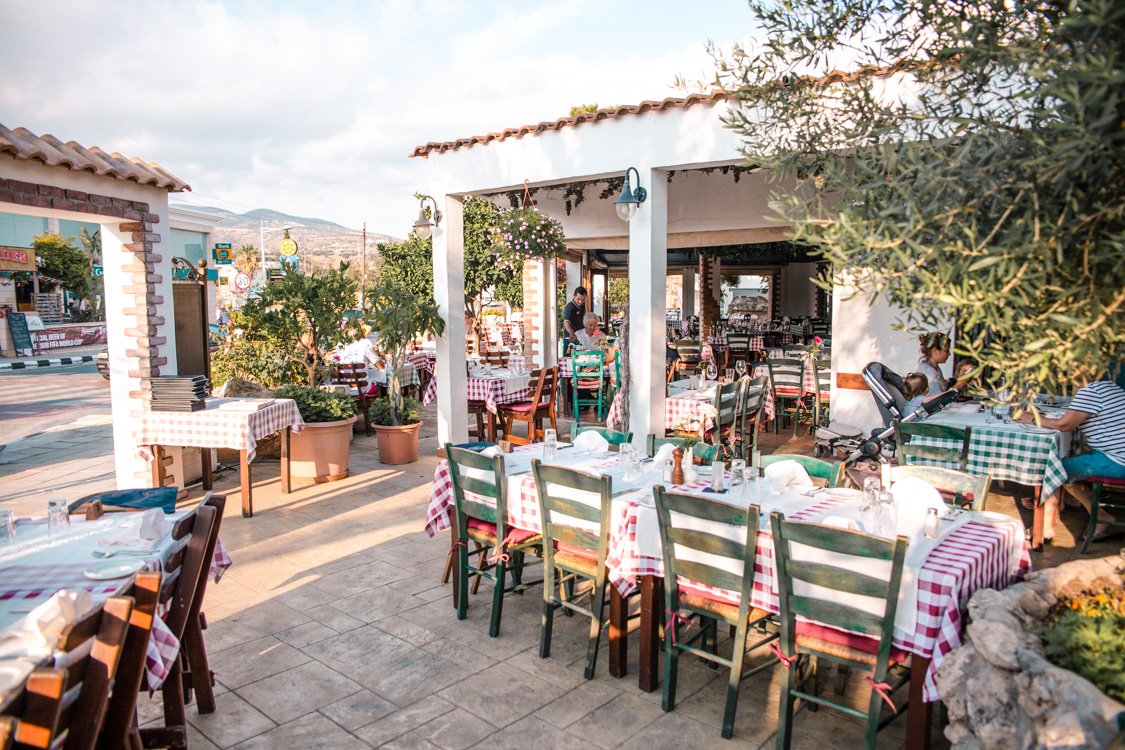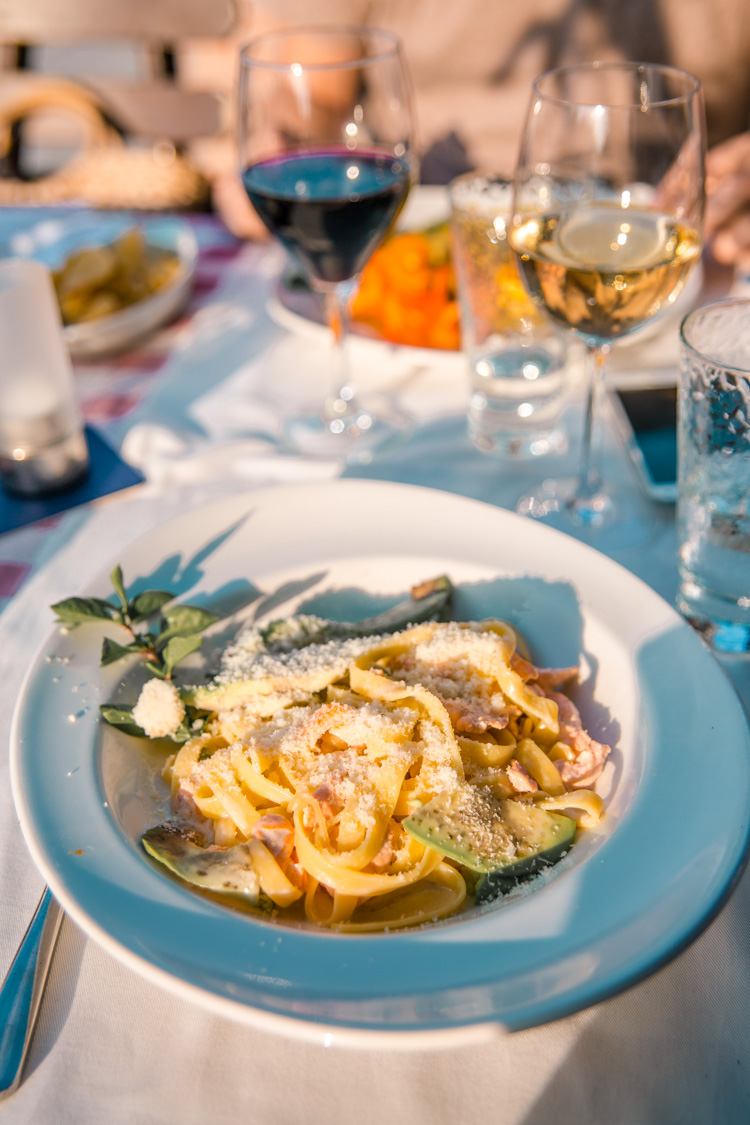 Restaurants Close to Coral Bay
Not far from Coral Bay, you will be spoilt by unique dining options. Here are just two of my tried and tested ones!
Sea You Bar in Potima Bay
Sea You bar has its own access to one of the nicest stretches of beach, they do yoga classes in here and you get the full experience of a beach bar! You will find it if you drive from Coral Bay towards Kissonerga, on the right side of the road known as Potima Bay.
It gets really busy at weekends so book a table if you want to see the sunset. One of the best sunset spots in the area.
Location:
Oniro by the Sea
This is another one of those places that I visit regularly (so much that I'm running out of things to try from the menu).
Oniro is located on the opposite side of Coral Bay, driving towards Sea Caves or St George.
The unique location and the presence of the shipwreck make this a one-of-a-kind dining experience.
In this case, you're in for a treat when it comes to the food! Some of the best meals I've had in Paphos were from here.
Location:
Viklari Last Castle
Talking about unique dining options, this one is with a view to die for. Only open for lunch though!
Viklari is set on the edge of Akamas peninsular, accessible by quadbike or car. They are very popular so you need to book your spot a bit in advance.
Stunning views across the sea and simple yet delicious food! What more could you wish for? We make this a regular stop if you plan a quad bike trip.
Location:
Coral Bay Hotels (Peyia Hotels)
As I live in the area, I don't have extensive knowledge of the hotel services, but I did visit most of them for a drink or a meal.
Sentido Thalassa Coral Bay – a beautiful boutique hotel stretches at the edge of the Coral Bay beach.
Stunning grounds with beautiful (even though small) garden and direct access to the small beach through a few steps. Stunning views across the beach.
I've been here once for food served in the garden/pool area and it was delicious. Super attentive and professional staff.
Panareti Coral Bay Resort – the very last resort in the area, this four-star hotel is located a short walk from Coralia Beach.
Crown Resort Horizon – located at the end of Coral Bay Avenue, perfect location for access to the beach and dining options.
Best Sunset Spots in Coral Bay
The sunset viewing depends on the time of the year as the sun moves around the horizon.
If you're visiting in the summer months, you won't have the full sunset experience on the beach, you would have to come in winter to see the sun dipping into the sea.
For summer months, I recommend seeing a gorgeous sunset from the Sea You Bar or the long stretch of the beach that's next to it.
Other than that, you can see beautiful sunset if you venture close to Panareti Coral Bay resort and walk more to the right side to get a direct view.
In the summer months, you will see the sun sliding just behind the Sentido Hotel if you're standing on Coral Bay Beach and you won't see the full sunset even from Coralia Beach.
Those two options above are easily accessible. Best if combined with a glass of wine, so Sea You Bar is your best option.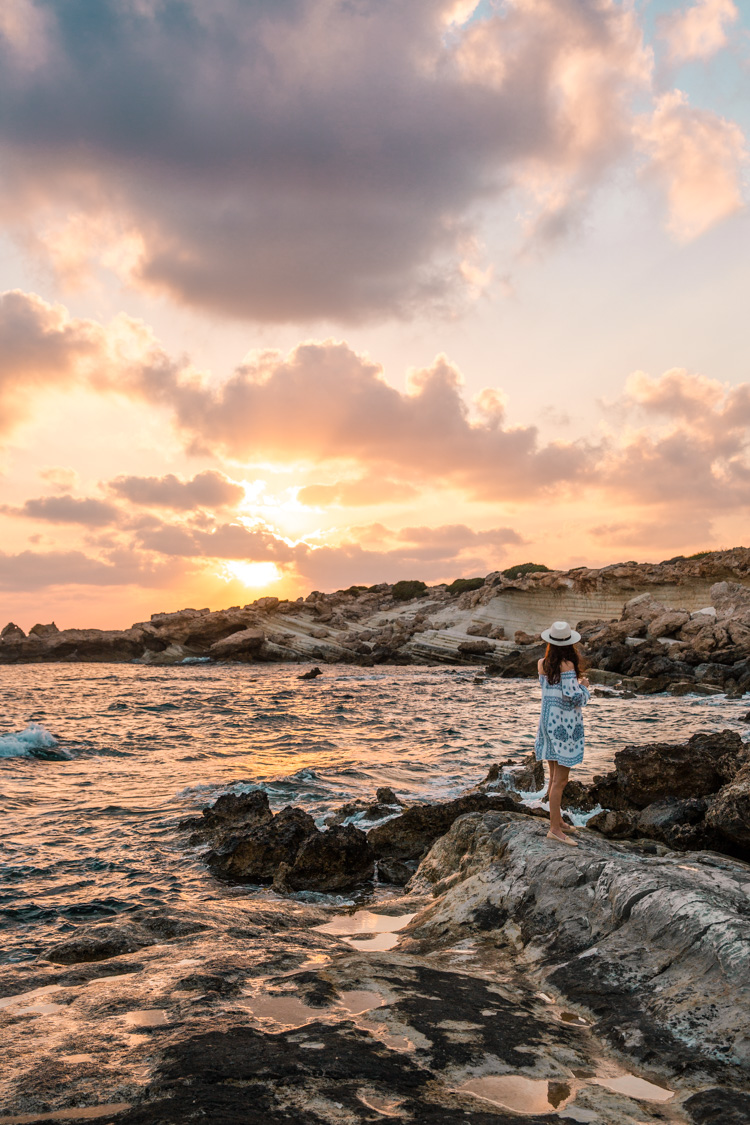 Phew, it looks like I've written a novel!
If there is anything you're particularly interested in, please comment below.
LOVE it? PIN it for Later!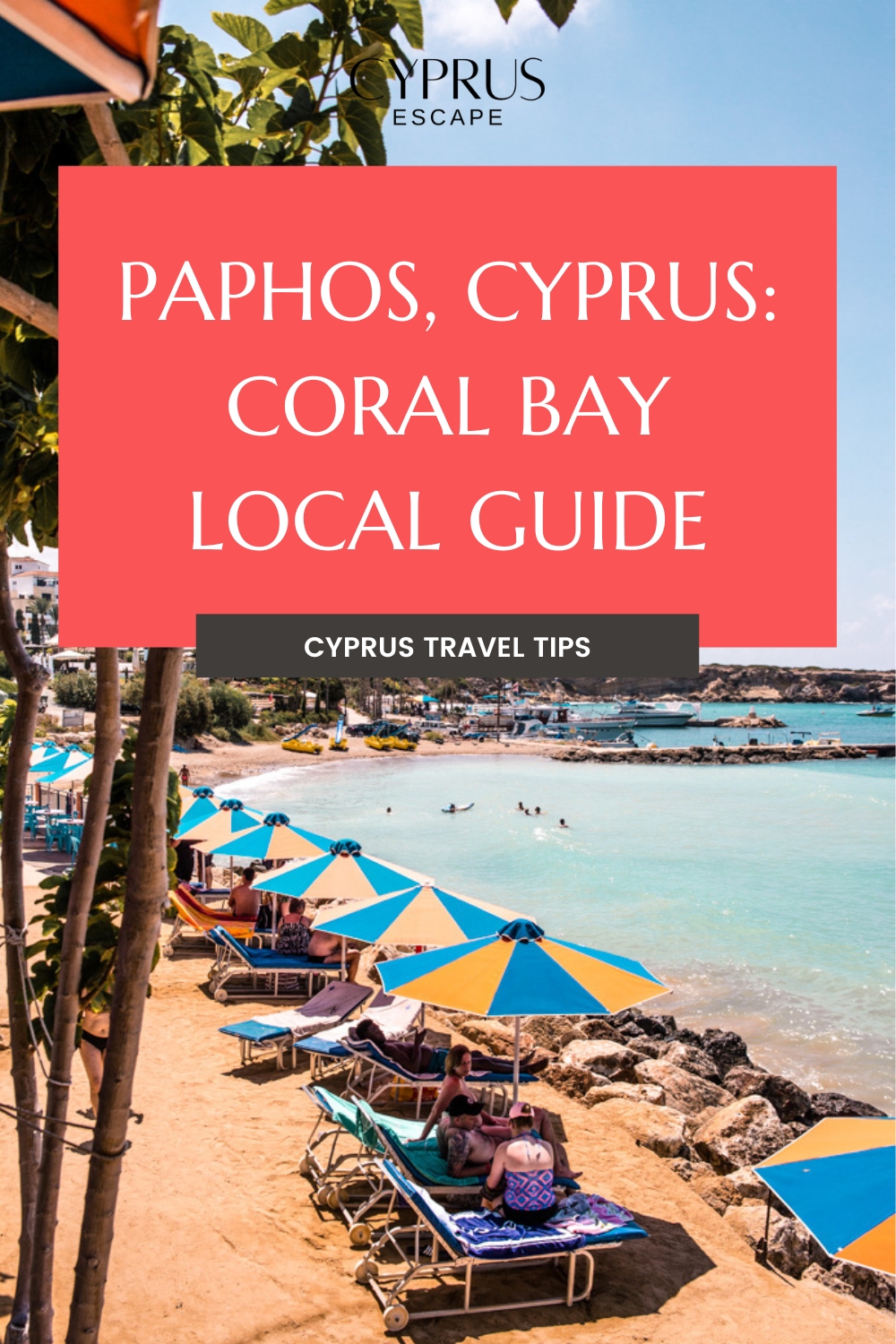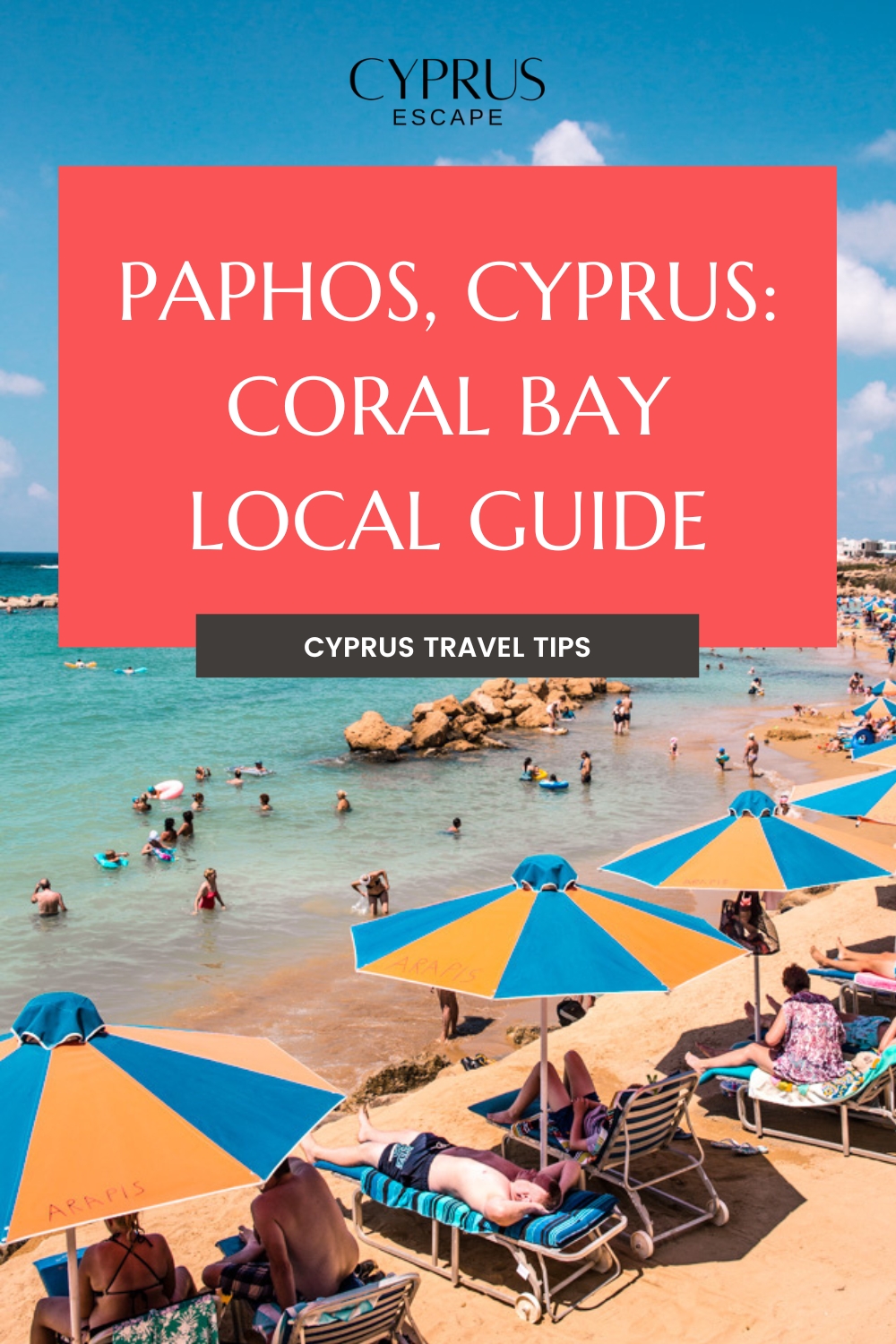 Explore More in Cyprus
Cyprus Honeymoon: The Complete Honeymoon Guide
Cyprus Travel Photography: Capture the Beauty of Cyprus
Cyprus Travel: Beautiful Places To Discover On Your Trip
Cyprus Photography Ideas: Tips from a Local Expert
The Best Time to Visit Cyprus: Month by Month Guide