Do you want to see a really cool place for lunch? Then you have to go to Viklari, The Last Castle in the disctrict of Paphos, Cyprus.
Well known by all locals for great food and even better views, this secret hot spot is a short drive away in Akamas Peninsula.
Don't get put off by the rough road that takes you there, it will be well worth the drive.
It doesn't look like much from the outside, but wait until you walk in!
You're greeted by an outstanding view on the side, and through a beautiful stone-lined walkway, you enter the restaurant area covered with vines.
(if you want to book your table and get location details, scroll to the bottom of the article)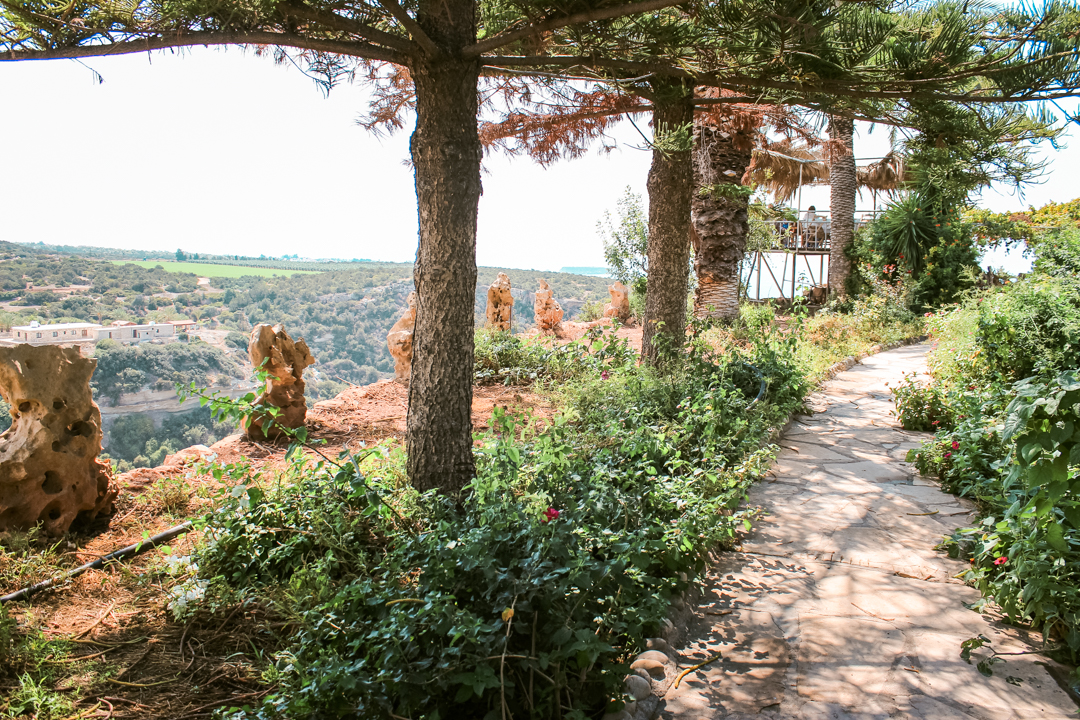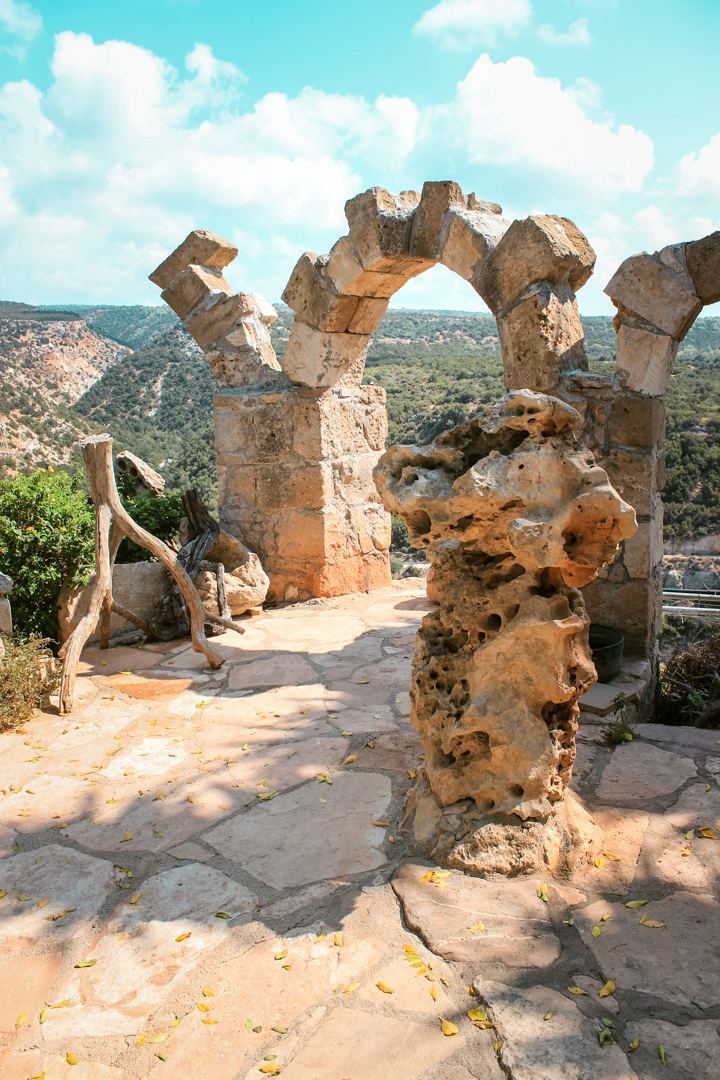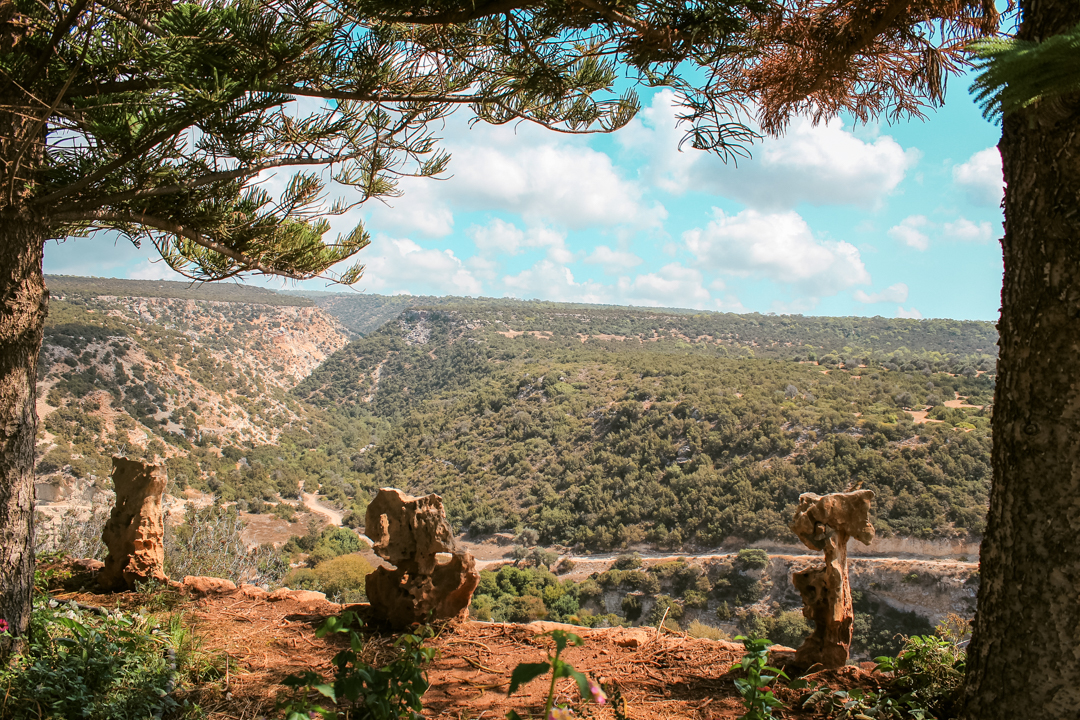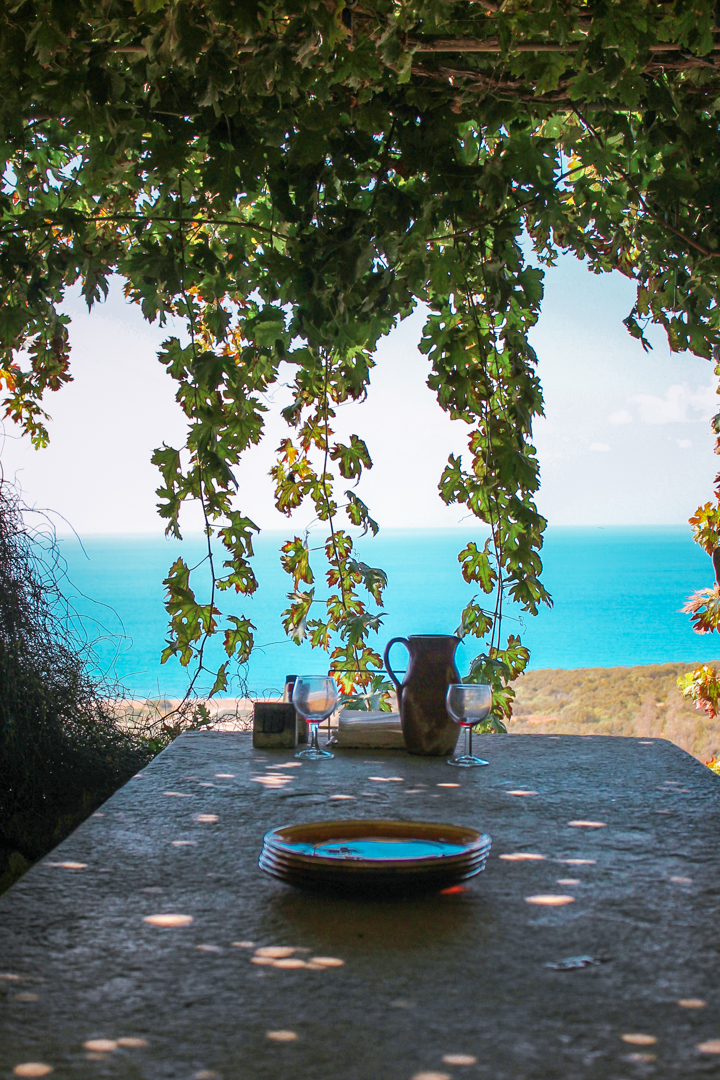 Everything in here is as rustic as it gets and I couldn't love it more! The vines provide a lovely shade and reflect like a disco ball a beautiful mosaic on the floor.
It is beautifully green in spring and summer, definitely, the best time to visit!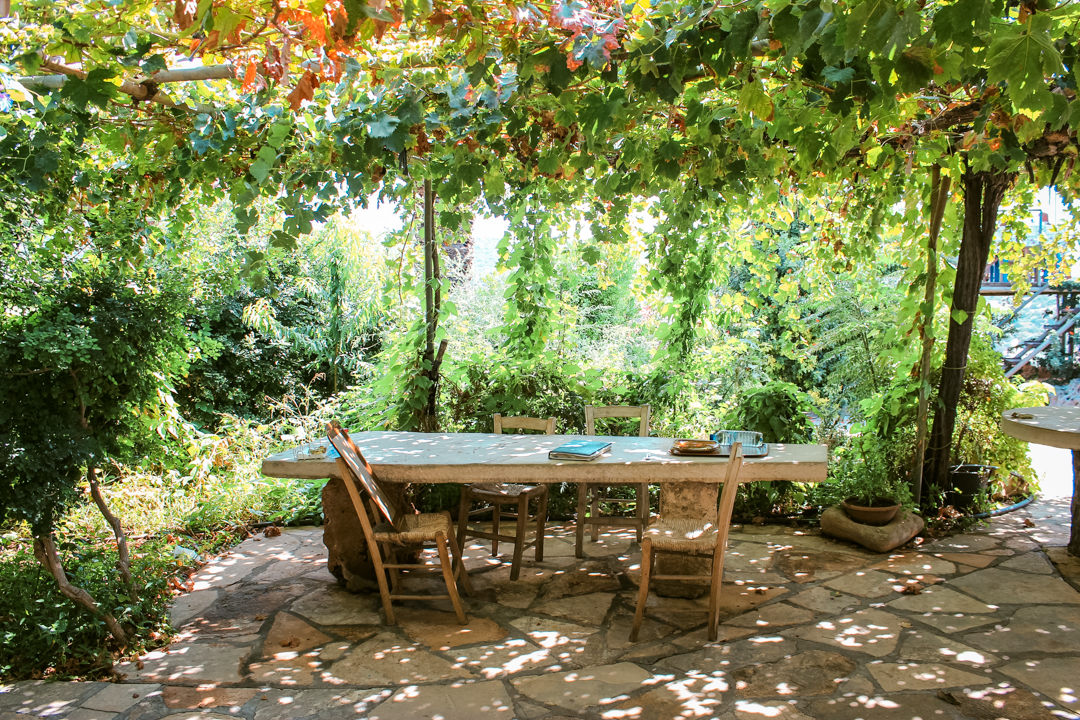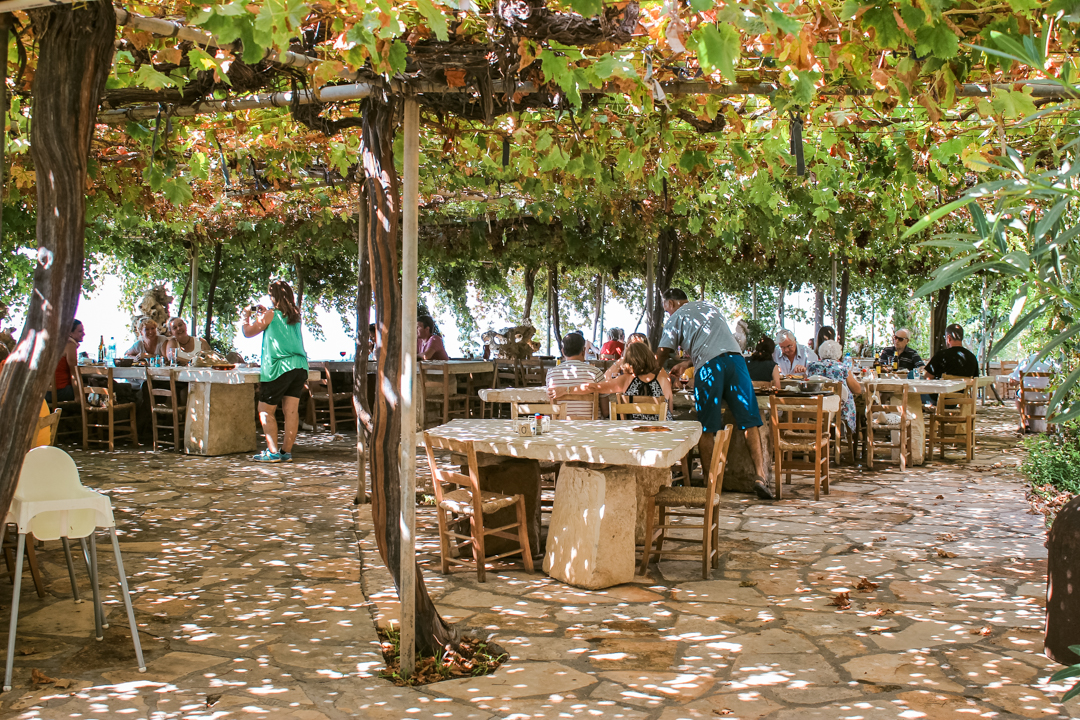 When we were there, the grapes were just getting ripe and the vine provided nice shelter from the midday heat.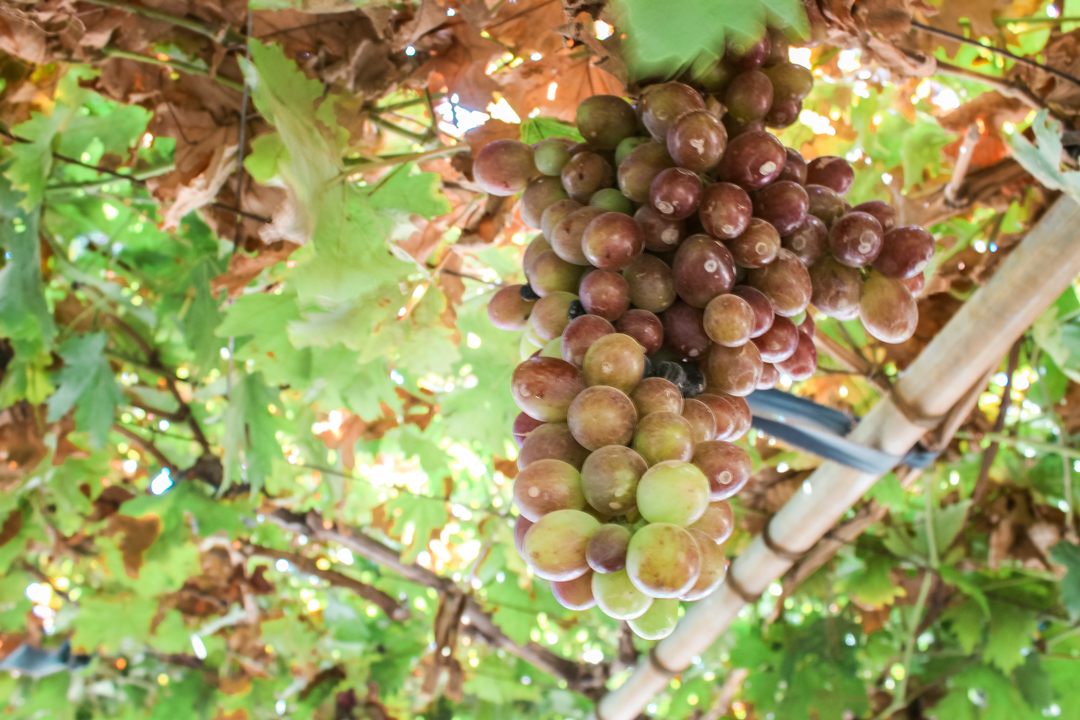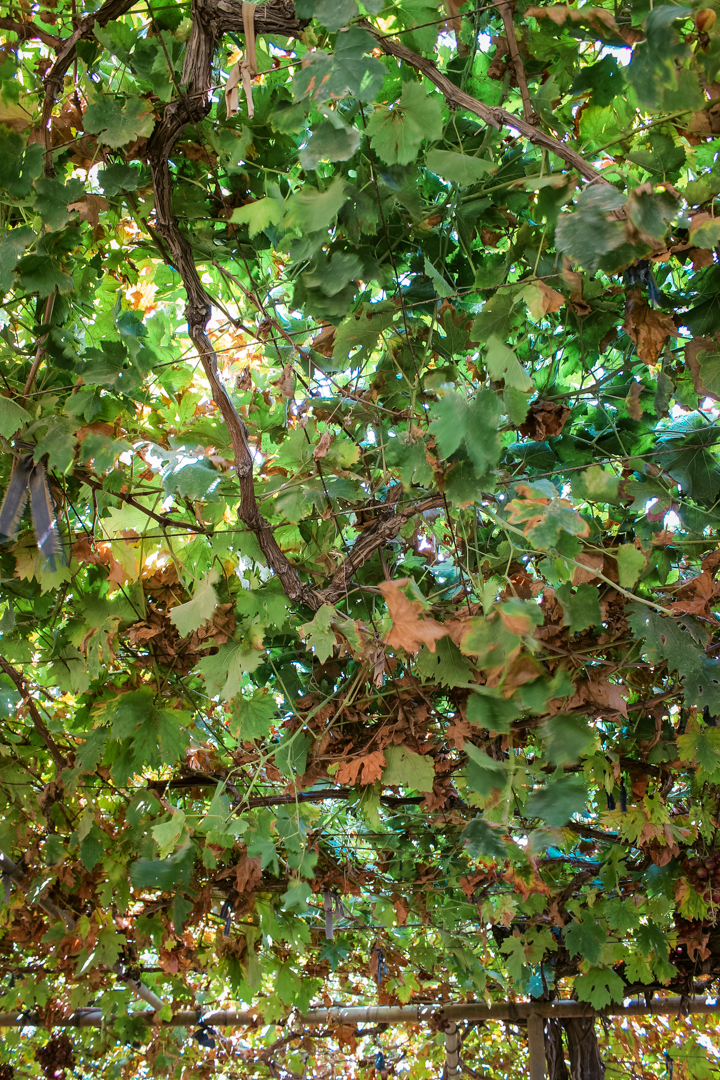 We called a day earlier and booked a big table with a view – a must if you want to make it there for lunch in summer, this place gets really busy even on weekdays.
We started with some house wine, served – how else – than in a rustic jug.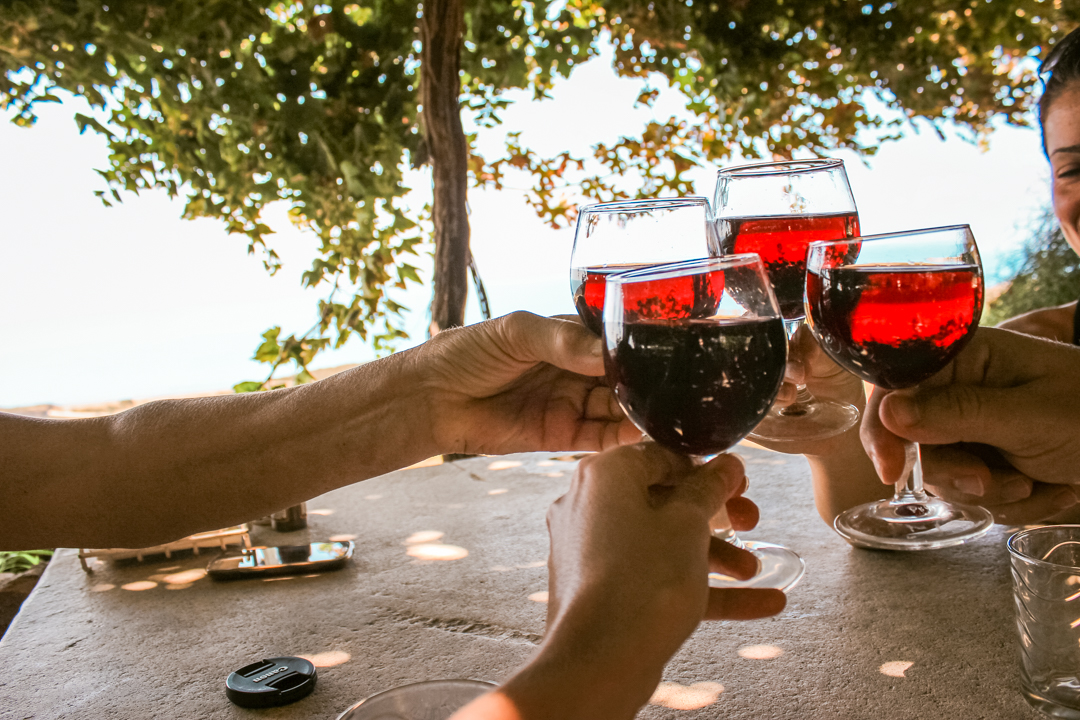 This is no place for picky eaters – the restaurant only serves one menu and lunch only, you choose either chicken or pork (or mixed).
It comes with gigantic chips, freshly prepared salad, some bread and of course wine!
The food is good quality, I would say even better than you get in most restaurants in Paphos (especially in the harbour area).
The salad is rather simple but very fresh. Good fresh ingredients, you can't go wrong with those.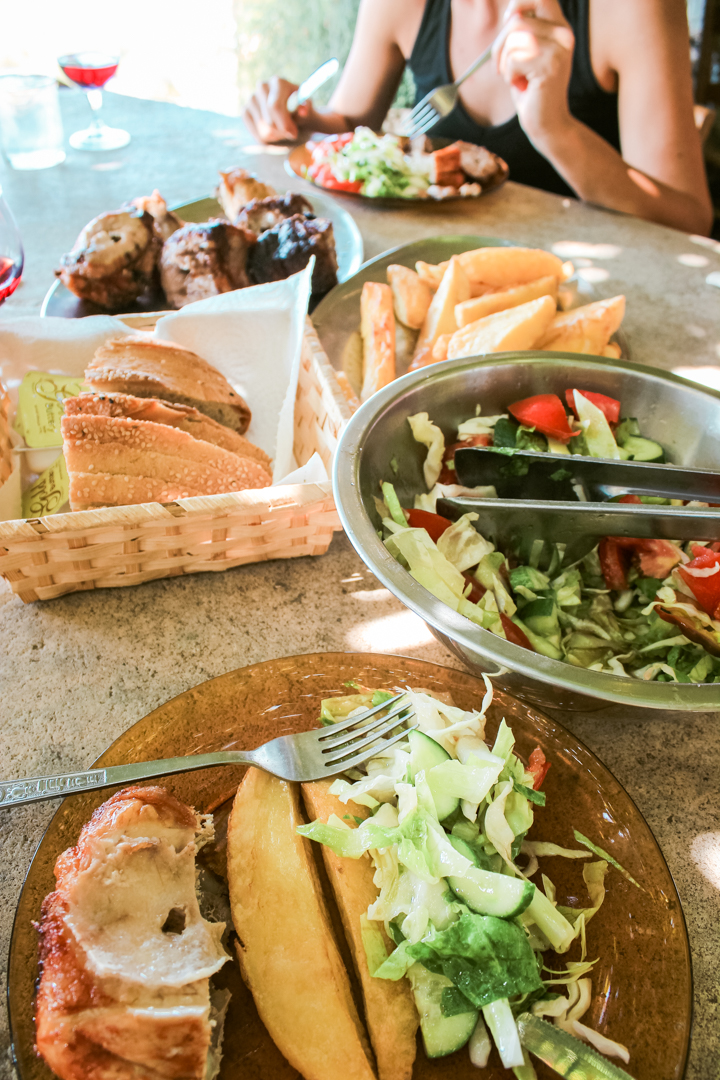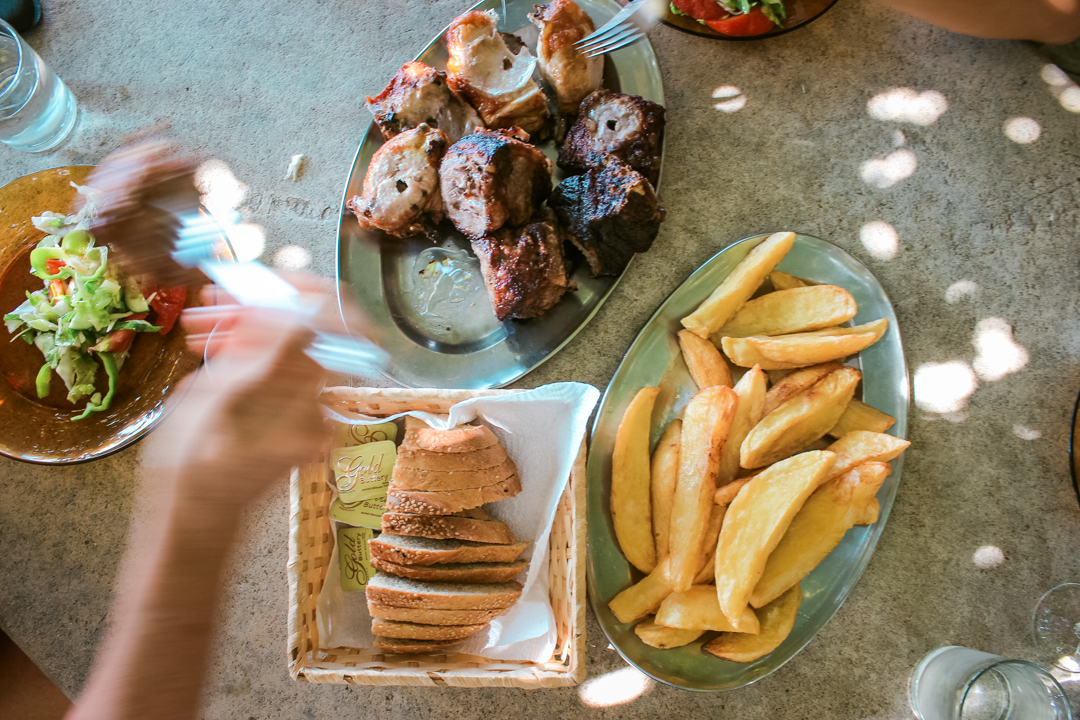 Everyone is very friendly and this place is popular, so book ahead to avoid disappointment.
If you have some spare time, you might like to visit Avakas Gorge, there is a turn towards it when you leave the restaurant.
Viklari, the Last Castle – Cyprus
location:
opening hours: 11.00 am – 5.00 pm
contact: +357 26 991088 for bookings
Facebook page: here
Paphos: Recommended Tours & Experiences
Explore More: Food Guides
Best Restaurants in Limassol: A Guide by a Local Expat
Cyprus Bucket List 2023: The Beach Bars and Restaurants in Cyprus
Explore More: Sights
What to Do and See in Limassol, Cyprus
15+ Fabulous Things to Do & See in Paphos
Cyprus Wineries & Wine Tasting Experiences
Hiking in the Avakas Gorge, Paphos (Cyprus)
Baths of Adonis in Paphos, Cyprus
A Day Trip to Paphos ZOO, Cyprus
The Hidden Gem in Paphos: Agios Georgios
Explore More: Travel Guides
Cyprus Bucket List – Best Beaches to Soak up Sun in Cyprus
Local's Guide to Coral Bay (Peyia) for 2023
Driving in Cyprus: The Complete Guide by a Local Expat
Best Instagram Locations in Cyprus
Cyprus Bucket List: Things to Do in Cyprus with Kids
The Best Time to Visit Cyprus – Month by Month Guide
A Guide by a Local: How to Spend a Day in Kato Paphos, Cyprus
Cyprus Travel Planning Guide
cheap flights to CYPRUS
KIWI.COM – find the best deals on flights to Cyprus from all available airlines, all in one place! You can also set up price alerts, so you will be the first to know when the price for your dates drops.
BEST HOTELS IN CYPRUS
BOOKING.COM – I have used booking.com for years for stays in Cyprus and abroad. They have very reliable guest reviews and a super easy booking process. Check out some of my favourite hotel stays here.
CAR RENTAL IN CYPRUS
DISCOVER CARS – this award-winning price comparison website will source car rental quotes from local and international companies, giving you the best price for your car rental in Cyprus. Don't forget to check my guide about driving in Cyprus to stay safe on the roads!
TOURS & EXPERIENCES
GET YOUR GUIDE – find local day trips, food tours, tickets to monuments and much more on this popular travel platform offering unique travel experiences in Cyprus.
QUAD BIKE, BIKE & SCOOTER RENTALS
BIKES BOOKING – book bikes, motorcycles, scooters or quad bikes all from one place!
Disclaimer: This post contains affiliate links – if you decide to book using one of the links, I will earn a small commission that helps me run this site. This is at no extra cost to you.