A tale of two countries… or one country divided…
I took me nearly 3.5 years, but I finally made it to North Cyprus!
We planned a weekend road trip with our friends, going from Paphos through Limassol and heading towards the border crossing near Famagusta.
There are only certain points where you can cross the border or buffer zone, and you will need your passport to get through. If you're driving in your own car, you will pay 25 eur car insurance which is valid for 1 month in North Cyprus.
I've heard many things about North Cyprus, some people love it and others say they wouldn't go.
The best way to find out is to see it yourself of course.
I do apologize for lack of humans in the photos, but all of these were taken from the road though not very clean glass. On my next trip (planned for October) I will do a better job at documenting the surroundings.
Here is the start of our journey, on the border crossing.
The passports go to a nice lady in the window who will send you to another window first to get your insurance. There wasn't much traffic and no presence of heavily armed police or army, which I expected. No photography allowed, so I only snapped this one from the entrance.
After the crossing, it seems like you enter a very different world.
Turkish flags on every corner, run-down buildings and streets that make you feel like you just entered into a different country. We drove off and took the south coast road that would lead to the Golden Beach, at the very end of the Peninsula.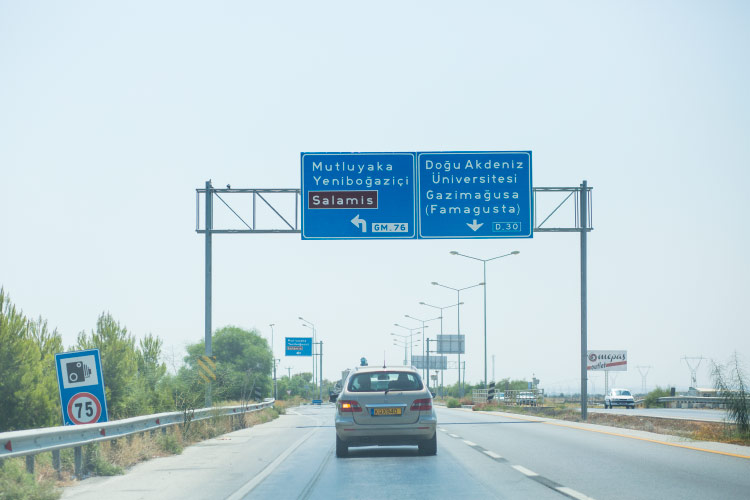 On the way, we admired old buildings, donkeys, random abandoned shelters and enjoyed the peaceful drive with almost no traffic.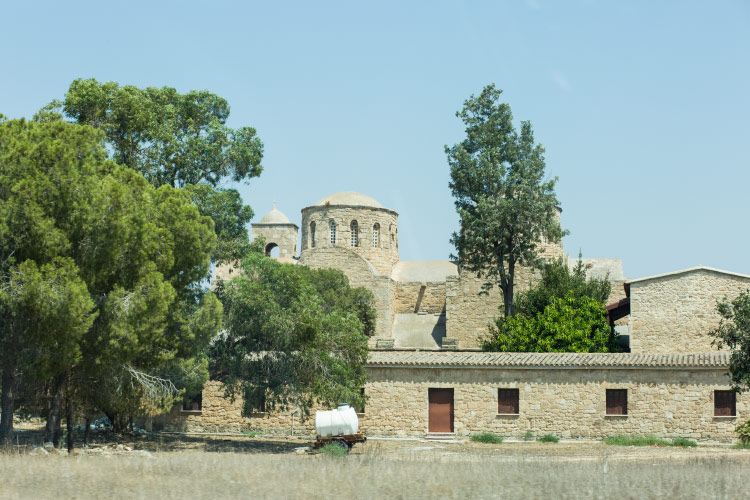 As we approached the tip of the peninsula, the view has changed drastically and all you could see for miles and miles were just trees, sheep and crystal blue sea.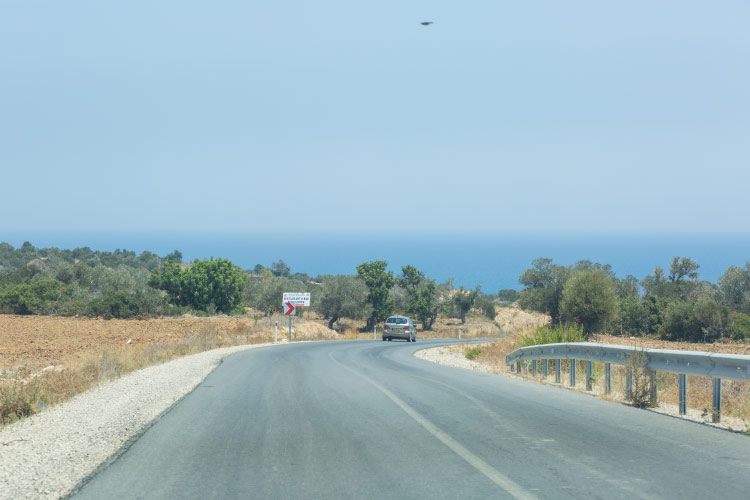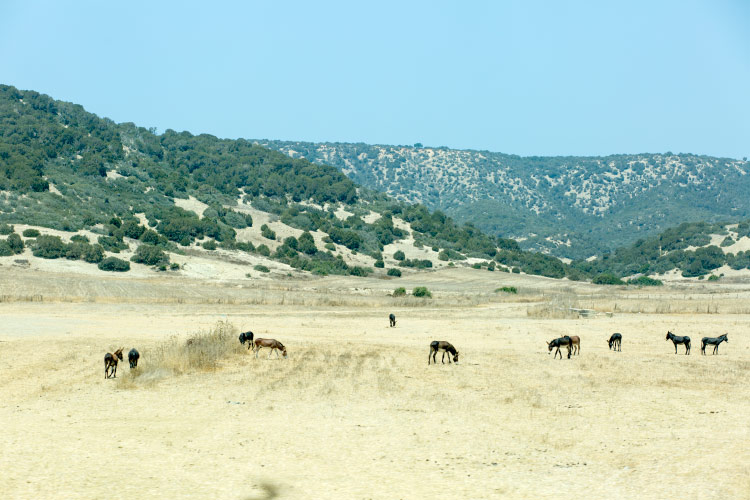 I've driven around Cyprus for years now, but I have to say this is the prettiest drive you can take, especially if you come back from the peninsula on the north road.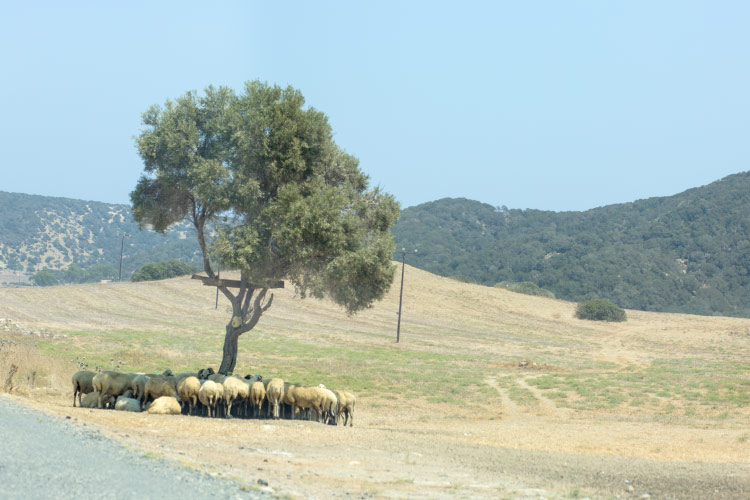 Our plan was to have a picnic on a beach, and there is no better beach for picnic than Golden Sands. As the name suggests, you can expect to walk on sand and let me tell you, it burns like hell! Take sensible footwear otherwise you will end up with third-degree burns.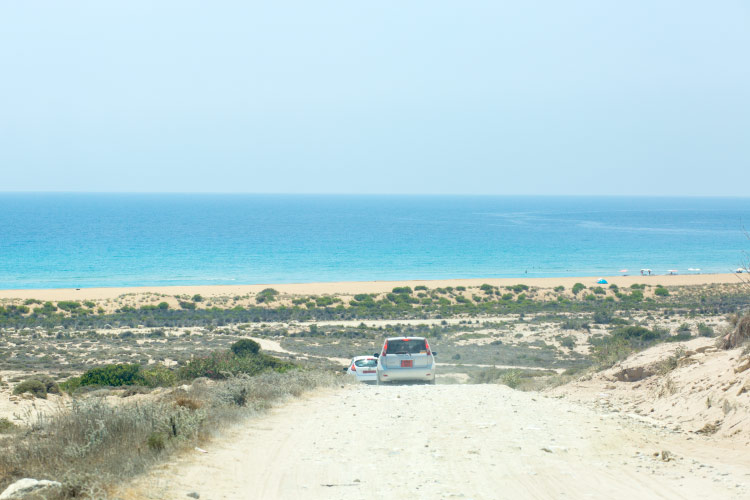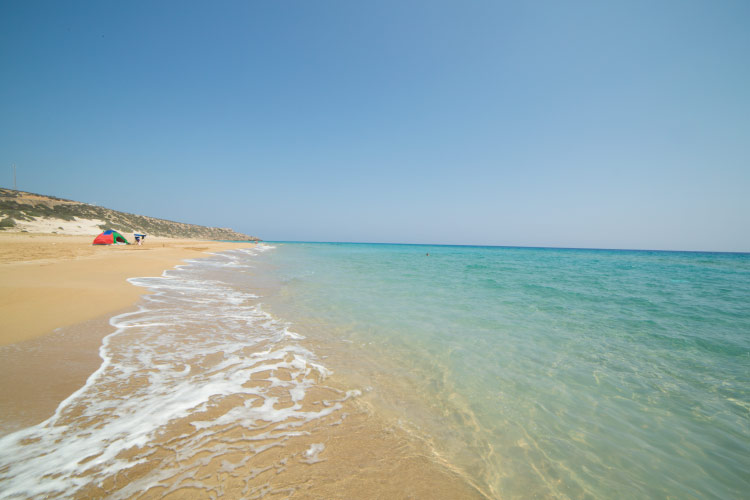 As you can see the beach rarely gets busy as it's literally in the middle of nowhere. We enjoy a picnic, dip in the sea, building sandcastles and the luxury of having a whole sandy beach just for yourself. There is a small shop by the parking lot, toilets and showers if you wondered!
Next time I will take more pictures, having your hands full with a 18 months old baby makes it a bit tricky to document everything.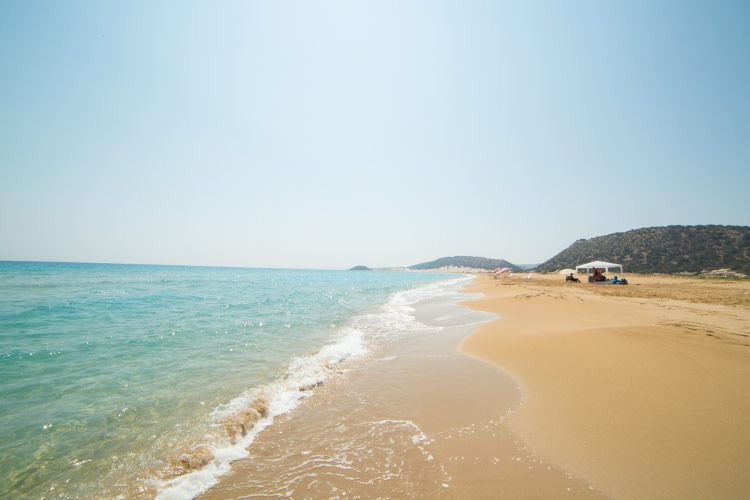 After few hours on the beach, we had off to the very tip of the peninsula to check the Monastery of St Andreas.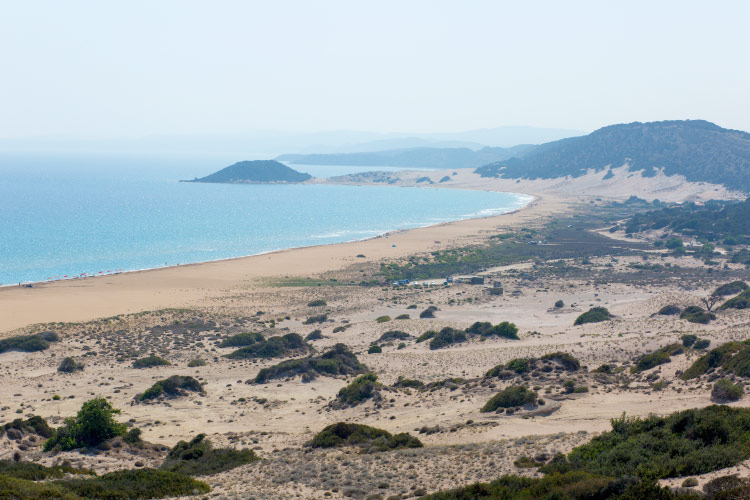 On the way, I saw a sign warning us about donkeys, but I had no idea they were not joking. There are donkeys along the road and in a true safari style you can feed them through your window as you pass. Great fun for the kids, if the massive teeth sticking through the windows don't frighten them.
Upon arriving at the monastery we discovered it was just a few buildings with scaffolding and very restricted access, so we made a turn and headed back, this time the north road towards Kyrenia, our last stop and accommodation.
We saw few hotel signs and some pretty rural looking accommodation options, which I am sure we will check out when we plan our next kid-free weekend away. Picnic posts like this were scattered around the coast and you couldn't pick a prettier place to eat your lunch.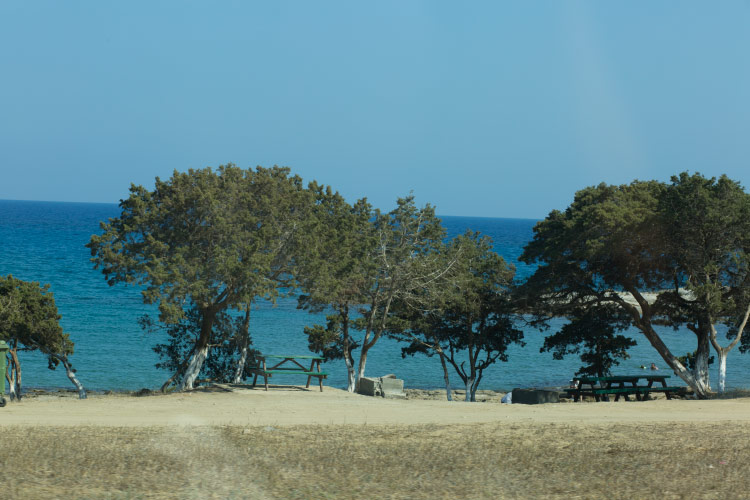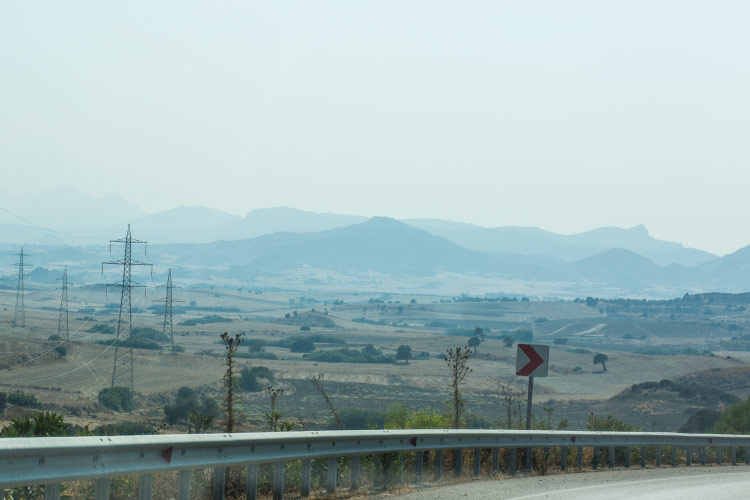 The views in North are simply stunning. Unspoiled nature, high mountains on one side and blue sea on the other.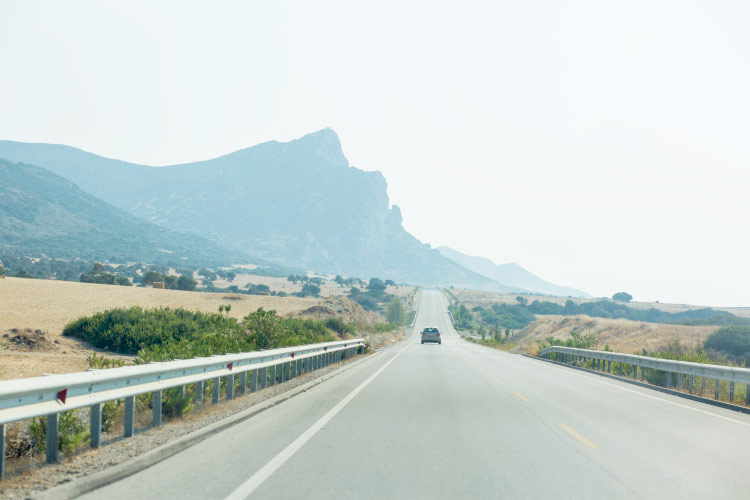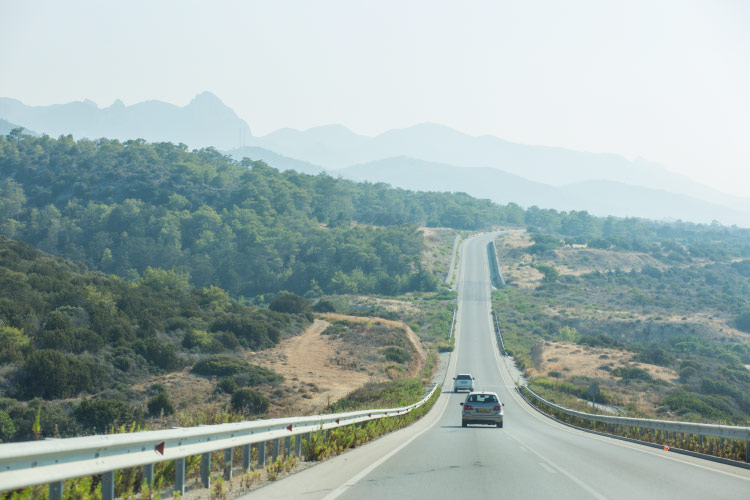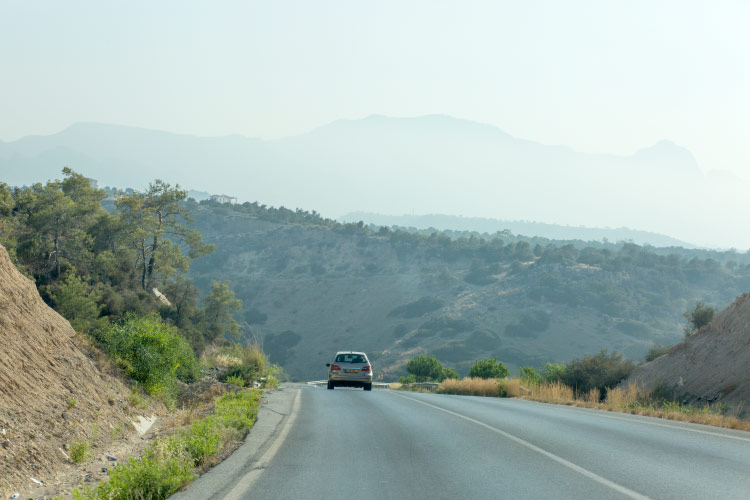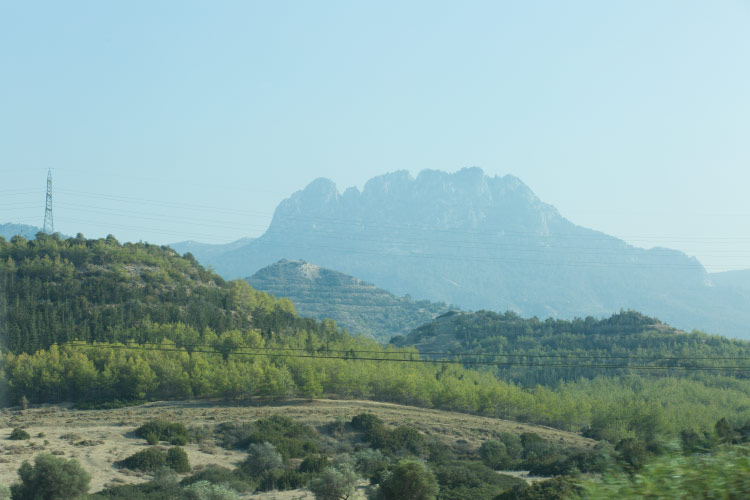 Having spent hours driving and few hours on the beach, we arrived late afternoon in Kyrenia. If you have more time, there are plenty of beautiful places to stop on the north coast and admire the beauty of nature and take plenty of photos.
I look forward to our next trip, when I get a chance to explore the North even more!